Crunch Time Win For 55
May 24th, 2017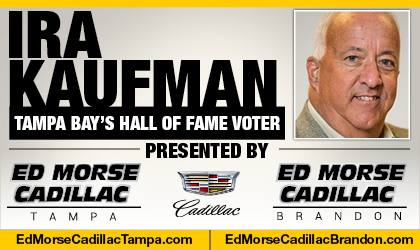 Tampa Bay's only Pro Football Hall of Fame voter, Ira Kaufman, the most beloved and esteemed columnist in town, has hung his hat at JoeBucsFan.com world headquarters since July 2016. His columns pop here every Monday, Wednesday and Friday, and his award winning podcasts fire Tuesdays and Thursdays.
BY IRA KAUFMAN
Nice guys don't always finish last.
In the ultra-competitive quest to land Super Bowls, no city has been more accommodating to the league than Tampa. When the NFL asks us to jump, we respond: How high?
That's why it was so rewarding, and so justified, when league owners told Los Angeles to cool its Hollywood heels for a year, awarding the 2021 game to the Bay area.
"From our standpoint, we felt this was an appropriate thing to do," NFL Commissioner Roger Goodell said. "We were fortunate that Tampa had a very competitive presentation when they bid on the Super Bowl earlier, so this was a solution the membership got on very quickly."
Since the Steelers edged the Cardinals in that dynamic 2009 Super Bowl, Tampa Bay kept finishing a close second in its bid for another shot at the big game.
When the NFL broke precedent and awarded the 2014 Super Bowl to New York, this region made Big Apple officials squirm. It was supposed to be a done deal, especially with the blessing of Goodell, but Tampa almost pulled off a monumental upset when ballots were filled out.
We put up a good fight against Arizona for the 2015 game but came up short again. The latest blow came when Tampa Bay took an 0-3 collar against bids by Atlanta, Miami and Los Angeles.
It's funny how Mother Nature can be a real mother.
While we're mired in a severe drought, construction on a new Los Angeles stadium has been hampered by record rainfall.
What a pity. #sarcasm
Suddenly, there was an opening. In crunch time, Tampa fired a completion through the NFL's tight window.
Super Bowl V
Some loose ends need to be tied up in the next 90 days before the announcement is official, but make no mistake … the 2021 game is ours.
"We will roll up our sleeves to make this happen together," says Rob Higgins, executive director of the Tampa Bay Sports Commission.
This will be our fifth time serving as Super Bowl host and much has changed since Ben Roethlisberger launched that winning touchdown pass to Santonio Holmes in the northeast corner of Raymond James Stadium.
New hotels and restaurants have sprouted up on both sides of the bay and the Bucs have found themselves a franchise quarterback.
"We're trying to play in every Super Bowl there is possible, but having a Super Bowl back in Tampa would be amazing and we want to be the team that is playing there," said Jameis Winston yesterday.
Until we swooped in to grab Super Bowl 55, things looked bleak for Tampa Bay's chances at landing America's biggest sporting event.
New Orleans is always in the mix, as it should be, and Las Vegas is a natural Super Bowl site once a stadium is complete there in 2020.
This will be the 20th season for the Bucs at RayJay, which is in the process of a significant upgrade. The stadium has held up well and there is plenty of time to make further renovations before playing host to the 2021 game.
"You ask around the NFL and this is still regarded as one of the top 10 venues in the country," says Eric Hart, president and CEO of the Tampa Sports Authority. "Our amenities and design are going to stand the test of time."