Needing A Running Back
April 6th, 2017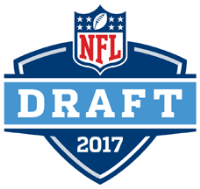 Yesterday, Joe brought word on what the four-letter thought the Bucs should draft at No. 19. Today, another national outlet chimes in.
Bonnie Mott of USA Today took a magnifying glass to the roster of the Bucs and she has concluded a dependable running back must be acquired in this month's draft.
With Doug Martin suspended the first three games of the season due to his PED violation, the Bucs will be without their lead back, leaving them Jaquizz Rodgers and Charles Sims. While both players have been productive, they aren't meant to be utilized as a No. 1 back and carry the majority of the workload, rather like a change-of-pace-back instead.

There's a concerning lack of experience and production at running back right now. The team needs someone to fill the void Martin leaves. A few draft options could be LSU's Leonard Fournette, FSU's Dalvin Cook and Toledo's Kareem Hunt. Of course, there's always free agent running back Adrian Peterson who is readily available through the open market. The team has plenty of options.
So lets run this down, shall we? As a pure runner, strictly a runner, Leonard Fournette is likely the best but is he a fit for an offense that seems pass-heavy like the Bucs'? Not to be overlooked, as an NFL suit told Joe recently about Fournette, "How come last year every time I turned on an LSU game, Fournette was standing on the sidelines?" Fair point.
Yeah, there is the Christian McCaffrey sect. He sure was productive… against middling PAC-12 defenses and historically overhyped B1G defenses. Besides, some say he will go in the top 10.
Does that mean versatile Dalvin Cook slips? Perhaps.
As far as the you-can-get-value-at-running-back-later crowd, while that isn't far-fetched, Dirk Koetter doesn't totally buy it (Joe will have more on that tomorrow).
Besides, don't the Bucs already have a third round pick of a running back on the roster? That same guy is often hurt, can't run between the tackles and when he tries to run outside, looks as if he's auditioning for a position with the dance troupe that backs up Britney Spears in her Vegas act.