Riot At JoeBucsFan.com World Headquarters
April 28th, 2017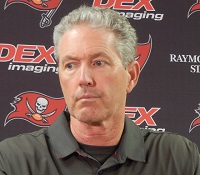 As many of you read below, Joe penned a beautifully written story with very sound logic about how it's possible and reasonable that Cameron Brate could become trade bait today for a second-round pick.
Well, that has sparked a riot at JoeBucsFan.com world headquarters. The other Joe in the house is throwing beer cans and would personally burn all photos of Jason Licht if that happened.
This Bucs team is in no position to dump pass catchers who have chemistry with America's Quarterback, Jameis Winston. Brate has had that chemistry since 2015, and he's on the rise and valuable.
Hell, one could make a great case the Bucs should extend Brate's contract through 2019 right now! (He's an unrestricted free agent in 2018, when he'd be sure to command a roughly $3.5 million, first-round tender). Harvard man Brate would be smart enough to do the math and figure out he'd be wise to take a guaranteed raise now from the $690K he'll earn this year.
If the Bucs want an extra second-round pick tonight, an early second-rounder, Joe would sooner see the Bucs cough up their first-rounder next year.
Next year's first-round pick won't catch a touchdown pass this year, or run for 1,000 yards, or stuff Christian McCaffery or Adrian Peterson at the line of scrimmage. Or hit Matt Ryan in the mouth.
The Bucs are totally in win-now mode. And they might has well kick that up a notch.