"It's All Or Nothing When He Comes"
April 28th, 2017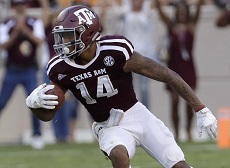 The Bucs' new rookie safety Justin Evans is what Raheem Morris might have a called a "wild child," but in a good way.
Frankly, Joe just hopes Evans isn't like the safety drafted 10 years ago in the second round: Sabby The Goat Piscitelli.
Here's a bottom line Evans, via NFL.com, from film guru Lance Zierlein.
Regular readers here will see that he's a Dirk Koetter man.
Soft-spoken but carries a walloping stick. Plays the game with an elevated sense of urgency and excitement. He is a little undersized, but has plus speed, is an extremely physical hitter and can play deep or near the line of scrimmage. Athleticism and ball skills might lead a team to test him out as a slot corner. Regardless of where he plays, he has the talent to become a plus NFL starter and a potential Day 2 (Rounds 2-3) draft selection.
Mike Mayock, a former NFL safety himself who now is NFL Network's premier draft guru, said tonight "it's all or nothing when [Evans] comes to tackle." Very aggressive dude, says Mayock.
Joe can't speak now for how Evans will fit with the Bucs, but they needed more talent at safety. And now they got it.