The NFL Owes Us One
April 12th, 2017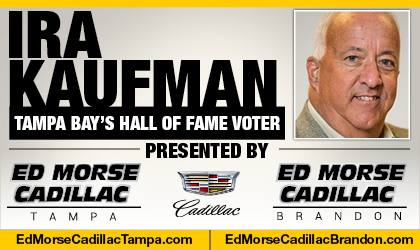 The sage of Tampa Bay sports, JoeBucsFan.com columnist eye-RAH! Kaufman, authors columns every Monday, Wednesday & Friday. His award-winning podcasts fire Tuesdays and Thursdays, and Kaufman is seen on Spectrum Sports every Monday. Ira also is renowned for his appreciation of Reisling, Bette Midler, french fries and his relationships with the biggest of big names in the NFL.
BY IRA KAUFMAN
The NFL owes us one.
The last time the Bay area played host to a Super Bowl, Barack Obama had taken residence in the White House for less than two weeks. Liam Neeson was cracking dozens of Albanian skulls in the original "Taken." Jameis Winston was a high school freshman.
It's been awhile.
And that's why Tuesday's announcement regarding continued upgrades at Raymond James Stadium is so tantalizing.
With the next four Super Bowls locked into Minneapolis, Atlanta, South Florida and Los Angeles, the earliest the NFL's showcase event can return to Tampa Bay is 2022.
That means a minimum 13-year gap between Super Bowls for a community that has repeatedly proven to be a big-time host for the biggest sports events.
"You ask around the NFL and this is still regarded as one of the top 10 venues in the country," says Eric Hart, president and CEO of the Tampa Sports Authority. "Our amenities and design are going to stand the test of time."
Tampa Bay has always been a willing partner to do the league's bidding, but finishing second is getting a little old around here.
We narrowly lost out to New York for the 2014 game, the first Super Bowl played in a cold-weather, open-air stadium. Bay area officials knew we were a longshot because the New York bid had the firm backing of NFL commissioner Roger Goodell.
Still, we made those Big Apple honchos sweat.
When Arizona beat us out for the next available game, alarm bells went off in Tampa.. That's the day we realized the Super Bowl may have passed us by.
Bad Hand
Last May, when three Super Bowl were awarded on the same afternoon, Tampa couldn't compete with new stadiums going up in Atlanta and Los Angeles. A $400 million stadium facelift in South Florida put Dolphins owner Stephen Ross back at the poker table.
Meanwhile, we got a slap on the back for another good try.
The Glazers don't like to rock the boat, but they also don't like to be taken advantage of.
"The Tampa Bay area has distinguished itself as a top Super Bowl host over the years," Bucs co-chair Bryan Glazer said 11 months ago when fellow owners gave us an 0-for-3 collar. "While today's decision is disappointing, we remain confident that our area — with its rich sports history, strong tourism-based economy and ideal warm climate — will remain a strong contender for future consideration."
The earliest Tampa Bay can play host to a Super Bowl is now 2022 — and that's far from a sure thing. Although we're ahead of New Orleans in the pecking order, the Big Easy is always an alluring competitor.
Don't forget about a new facility planned for the Raiders in Las Vegas and never let your guard down when competing against Jerry Jones, who seems to have unusual sway over his fellow owners.
Big Sticks Required
All the Bucs can do is spend money and upgrade a facility which opened in 1998. The enhancements will benefit the local fan base from the start and could influence the outcome of future Super Bowl bids.
Bucs chief operating officer Brian Ford said he's confident the new $150 million stadium renovation will attract larger events.
There are other factors, of course.
It doesn't hurt that new hotels have sprouted up in the Bay area since the Steelers edged the Cardinals in that riveting 2009 matchup at RayJay. Billionaires like their perks and I don't envision Robert Kraft or Arthur Blank playing 18 holes in Minneapolis before next year's Super Bowl.
Ultimately, it could come down to the Glazers. A committed and driven owner can change hearts and minds.
A disinterested owner will end up on the side of the Super Bowl road as Jerry and his gang roar by.