Licht's Draft Freedom Rings Through Jameis
April 24th, 2017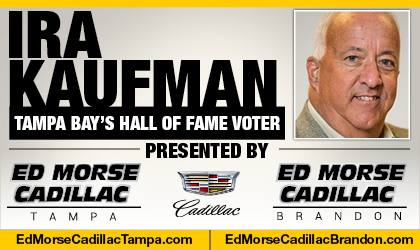 Tampa Bay's only Pro Football Hall of Fame voter, Ira Kaufman, has hung his hat at JoeBucsFan.com world headquarters since July 2015. His columns pop here every Monday, Wednesday and Friday, and his award winning podcasts fire every Tuesday and Thursday. 
Today, of course, Ira looks at the NFL Draft in a different light.

BY IRA KAUFMAN
In retrospect, the Bucs picked the right time to go wrong.
That 2-14 debacle in Lovie Smith's initial year on the Tampa Bay sidelines was certainly brutal for Buc fans to endure, but the payoff was immense. Jameis Winston was there for the taking and Jason Licht pounced.
Good luck to all those teams looking to find a franchise quarterback in this draft.
"As far as the quarterbacks in this year's class, I'm not banging the table for any of them," says NFL Network analyst Mike Mayock. "I think there's talent in the class, but I think it's going to take a year for most of these guys."
Mayock's being kind. It's not going to take a year for these quarterbacks … it's going to take a miracle.
Jon Gruden is never going to tell us that a particular draft class sucks for quarterbacks. He's ESPN's quarterback guru, and he gets paid millions of dollars to hype Deshaun Watson, Pat Mahomes, DeShone Kizer, Brad Kaaya and Josh Dobbs.
How would you like to be a Browns fan, up to your Trubisky in quarterback trouble? You've got a glaring need under center, but your draft board tells you there are far better talents at No.1.
Same thing with other quarterback-needy franchises like the Jets, 49ers, Broncos and Texans.
That's why the Bucs are in such good shape going forward.
Elite Company
They've got a 23-year-old quarterback who has the respect of everyone at One Buc Place and the attention of every opposing defense. For Tampa Bay's brain trust, the only vexing question is deciding who is going to back up Winston.
Look around the rest of the division. Drew Brees is 38 and can't go on forever. Matt Ryan turns 32 next month and Cam Newton, almost 28, is already starting to break down physically.
The Bucs may not be on the prowl for another starting quarterback until 2027, which might be the next time the Bay area lands another Super Bowl.
Without the benefit of a credible ground game, Winston threw 28 touchdowns last season. Only Aaron Rodgers, Ryan, Brees, Philip Rivers, Andrew Luck and Ben Roethlisberger topped that total.
In that group, Luck is the only quarterback younger than 32.
Can you imagine the debate going on in the war rooms in New York and San Francisco, teams so desperate under center that Josh McCown and Brian Hoyer are the presumptive starters this fall.
Licht Is Free; Chucky Wants "Fear"
In contrast, the Bucs, Titans and Cowboys appear set for the next decade with Winston, Marcus Mariota and Dak Prescott. All three are likely to cash in on their second pro contracts, but the Glazers will be eager to toss $100 million Winston's way to keep him a Buc for an extended period.
Winston's presence gives Licht the freedom to remain flexible in Thursday's opening round. The Bucs could go defensive end, safety, running back, tight end or wide receiver with their premium picks — and that's quite a luxury in a league where quarterback is king.
Despite adding DeShaun Jackson in free agency, Dirk Koetter craves more game-breakers. Who can blame him? As last year proved to Buc fans, speed kills and lack of speed cripples.
That's why an O.J. Howard or a John Ross could be in play at No.19.
"Speed is the one thing you can't coach," Gruden says. "We always felt that's the one quality we had to have on our teams in Oakland. It strikes fear in the defense and I still think it's a valuable commodity. Everyone goes to the combine with their stopwatches for a reason."