Hear Dirk Koetter Talk Christian McCaffery
April 9th, 2017
Podcast: Play in new window | Download | Embed
Subscribe: RSS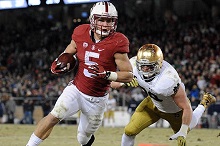 You may have seen excerpts of winning Bucs coach Dirk Koetter talking about Stanford running back prospect Christian McCaffery at the NFL Owners meetings.
But what did Koetter really say?
And how did he say it?
Joe was there and has the full audio for you to enjoy above.
This is the season of reading — and listening — between the lines. And Joe really heard skepticism in Koetter's voice regarding McCaffery's 200-pound frame, when it came to considering him as a bellcow running back.
Yes, Joe firmly believes Koetter wants a bellcow running back, a la Doug Martin (2015) or what DeMarco Murray (2016) did with the Titans. Murray pounded the rock last year for 293 carries and 1,287 yards with nine touchdowns.
Why is Joe mentioning the Titans? Because Dirk Koetter says the teams run extremely similar offenses. And Titans coach Mike Mularkey told Joe the irony of that is "eerie."
A lot of experts think McCaffery could thrive as an every-down, 300-carries-a-year running back, but Joe doesn't think that would play to his strengths. McCaffery is a great talent but not necessarily the greatest match for the Bucs.