Dirk Koetter Likes To Play Copycat In The AFC
March 4th, 2017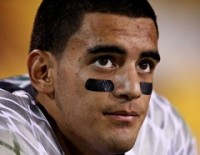 Sit down for this one.
Speaking to an out of town sports radio station, Dirk Koetter dropped an ironic twist in the laps of Bucs fans this week, and it sure feels like a window to what he desires this offseason.
Koetter said that when he studies film of other teams looking for fresh ideas and their execution, his eyes head quickly to Nashville, home of Marcus Mariota and head coach Mike Mularkey.
The Tennessee Titans run basically the same offense as the Bucs, Koetter said Wednesday, and they do it well.
"The Titans are a team I watch a lot on offense. Coach Mularkey, Terry Robiskie are two guys I have a lot of respect for, We run similar systems," Koetter said on WGFX-FM in Nashville. "Even though it may not look that way, but we're basically running the same offensive system. So I know that's a team that I like to watch to get ideas from those guys on how they're attacking teams that we both play. They did a great job this year; the Titans did an awesome job. Hopefully, they don't take all the guys we want [in the offseason] or we don't take all the ones they want."
First, that's damn interesting when you consider when and where Mariota was drafted, and that Koetter was a Mariota guy out of the gate before joining the bandwagon of America's Quarterback, Jameis Winston.
But even more interesting, the Titans are a bellcow back attack. DeMarco Murray had a whopping 293 carries, third most in the NFL, for 1,287 yards and nine touchdowns last season.
This further illustrates to Joe that Koetter wants to pound the rock with a between-the-tackles workhorse. Of course, that's why Doug Martin was re-signed, but that didn't work out, and there's no evidence Jacquizz Rodgers can handle that kind of load.
Will the Bucs turn to Latavius Murray in free agency? A first-round running back in the draft? Is their guy lurking in later rounds?
Regardless, it's safe to say Koetter wants the Bucs offense looking more like the 2016 Titans'.