DeMarcus Walker, The Bucs & Day 2
April 20th, 2017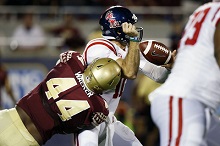 This absolutely is not a Joe's-a-Florida-State-fan post.
The genesis of typing this up today is the stunning interview on SiriusXM NFL Radio yesterday by FSU defensive end Demarcus Walker.
The young man was so impressive talking the talk yesterday, he literally blew away hosts Jim Miller, the former NFL quarterback, and Pat Kirwan, the ex-Jets personnel chief.
Joe heard the interview live and immediately thought Walker was nearly a clone of America's Quarterback, Jameis Winston. What an intense and personable dude.
Walker is clearly all about team, extreme confidence, and relentless work ethic and film study. Joe wishes this interview was somewhere online to share.
Kirwan was talking about how Walker is a prospect with no holes, a stud entering the pro game with a rare 52 college games under his belt, and he combines it with technique, freakish athleticism and strength in a 6-4, 280-pound DE. Kirwan, based on Walker's film, thinks he can add weight and eventually transition to play 3-technique in the NFL, aka Gerald McCoy's position.
The Bucs, of course, are old along their defensive line by NFL standards. Jason Licht knows it, and it's obvious.
Walker, who led the nation with 15 solo sacks last season, is widely projected as a late second-round pick. The Bucs own a late second-round pick, No. 50 overall.
Joe loves Walker's production and mentally, he seems like a perfect fit to be a total sponge among Robert Ayers, Gerald McCoy, Clinton McDonald, Will Gholston and Chris Baker. What an incubator the Bucs have for a rookie D-lineman.
"He's a football junkie," Florida State coach Jimbo Fisher said, via Jacksonville.com. "He doesn't want to take a play off. If you say, 'Go play 100 plays,' he's going to go do that. He's kind of a throwback in how he looks at the game and how he wants to play the game."

Walker was a four-star high school recruit who committed early to Alabama but then surprised observers by enrolling early at Florida State.

Walker was a backup as a freshman on FSU's national title team (18 tackles) before starting 37 games over three years.
The anti-FSU crowd would freak out if the Bucs drafted Dalvin Cook and followed it up later with Walker, but Joe would be very pleased by the talent injection in that scenario, especially if they find Walker in Round 3.