Licht Is Strong Enough Not To Reach
April 17th, 2017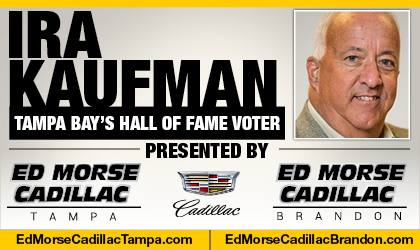 By IRA KAUFMAN
Talent trumps all.
That should be the mantra of the Buccaneers and 31 other NFL teams heading into the April 27 draft. Every club surely has pressing needs, but common sense dictates you're inviting trouble when you settle for a lesser player just because he plays a certain position.
"The only caveat we had was if the need line crossed the talent line, and if there were three players there and one was in a need position and all the grades were equal, we'd lean toward the need — but never at the expense of best player available," says Hall of Fame executive Bill Polian.
When it comes to draft acumen, Polian is tough to beat.
One reason Polian has a bust in Canton is the remarkable run he enjoyed as GM of the Colts. Starting with the franchise-changing selection of Peyton Manning in 1998, Polian added Edgerrin James, Reggie Wayne, Dwight Freeney, Dallas Clark, Robert Mathis and Bob Sanders in the following six drafts.
That's how you build a perennial NFL power.
Long Ball Over RB
With the 2017 draft only 10 days away, there's no mystery concerning Tampa Bay's No. 1 need. Jameis Winston operated without a credible ground game for most of last season — and Dirk Koetter is adamant that won't happen again.
The Bucs are sitting at No.19 and an excited fan base will be devastated if Jason Licht doesn't draft a running back in the first three rounds. And if Dalvin Cook, Leonard Fournette or Christian McCaffrey is still on the board at No. 19, the pressure will mount to immediately address the backfield issue.
But what if a Grade-A prospect like Alabama tight end O.J. Howard somehow falls into Licht's lap?
"What makes him unique is not only can Howard survive in the run game, he's pretty darned good at it," says NFL Network analyst Daniel Jeremiah. "You look at somebody that can create big plays down the field with his speed. Last year, they threw him the ball 49 times. This year, he came back and they threw him the ball 59 times. I don't think they did him any big favors there, but you're talking about an elite skill set."
Undrafted tight end Cameron Brate caught everything in his path last year, allowing Buc fans to forget about the epic flop of former second-round pick Austin Seferian-Jenkins.
Brate has sure hands and knows how to get open, especially in the red zone, but he's not much of a blocker and his yards after catch are minimal. Only five of Brate's 57 catches were for 20 or more yards … while stud tight ends Greg Olsen and Travis Kelce each registered 14 long receptions.
At first glance, tight end doesn't seem like much of a priority position for the Bucs, certainly not when compared to running back, defensive end or safety.
On second glance, passing on Howard would be a mistake.
"He's one of the more complete tight ends," says Bucky Brooks of the NFL Network. "He's dynamic, he's tough, he's worked on his craft. At the top of the draft, you're trying to make sure you don't miss. He's almost a can't-miss prospect."
One of the stock phrases you hear going into any draft is the old "best player available" philosophy.
Easy to say, difficult to execute. Temptations abound in the draft, where need has a way of steering you off your carefully crafted board.
"You don't pass up great players for good players," says Brooks. "You take the best available player at your selection, then you try to find a way to make it work, to get back what you eventually need down the road."
Too Close To Reach
When guided strictly by need in 2007, following the departure of Simeon Rice, Tampa Bay ended up with Gaines Adams instead of Adrian Peterson, Patrick Willis, Marshawn Lynch or Darrelle Revis.
Four years later, still desperate for an edge rusher, the Bucs drafted Adrian Clayborn and Da'Quan Bowers within the top 51 picks. Those twin terrors combined for all of 20 career sacks in pewter.
Licht boasts an enviable track record in his first three drafts as an NFL GM. He has fearlessly found a way to meld need and talent.
Yes, Tampa Bay's backfield cries out for help, but don't be surprised if Licht stays patient and trusts his board and his instincts. That stance worked out pretty well for Bill Polian.
The Bucs are close, real close.
How close?
Close enough that they don't have to reach for the stars.