"I Believe Ali Marpet Will Be A Dominant, Like Next-Level Center"
April 17th, 2017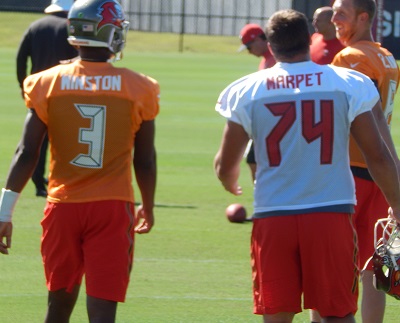 The Bucs are back to work today, Day 1 of Ali Marpet's slightly controversial transition to center.
Yes, the Bucs are taking their stud right guard and thrusting him into something new. Joe asked Gerald McCoy about Marpet's targeted move, and McCoy let it rip.
Marpet is a great guard, McCoy said, but center should be a different story.
"I think he'll be a dominant, like next-level center," McCoy said of Marpet.

"He's got, you know, these grippers; once he puts his  hands on you, you're in trouble. And I truly believe, and you can stamp this and quote it, I believe Ali Marpet will be a dominant, not good, a dominant center. I just really do. He's so athletic. He can pull. He can make all the blocks. He's highly intelligent.

"You know, you need a general in the middle. He's always on the go. He only knows one speed, and when your center's going at one speed, and you partner that with [Jameis]. that offense is going to roll."
Heavy stuff there from McCoy.
Man, Joe sure hopes McCoy is right. Obviously, No. 93 knows what he's looking at when it comes to offensive linemen.
A Pro Bowl, dominant center for America's Quarterback, Jameis Winston? Two kids to grow and dominate together? Oh, my.