Troubling Hall News For Ronde Barber
March 30th, 2017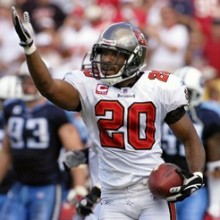 Working the last eight months with sage columnist and esteemed NFL writer Ira Kaufman, Joe has learned big league politics are at play in the Pro Football Hall of Fame process.
Joe's using the term "politics" in a broad manner, meaning all kinds of stuff happening behind the scenes influencing the selection process and votes. Joe's not talking Chicago politics, aka bribes, hookers and scandals, but there's plenty of angling and persuasion, like one might expect in any subjective process.
The 40+ voters Hall voters, Joe believes, put in an honest and commendable effort, but that doesn't mean they're not subject to influence. In fact, voters do loads of research and homework, and we all know that often leads to exposure to misinformation.
And that brings Joe to Ronde Barber.
If you listened to the Ira Kaufman Podcast today, then you heard Ira, Tampa Bay's only Hall voter, share troubling news: Barber's candidacy for Canton is off to a rocky start.
Ira was at the NFL Owners Meetings this week talking to fellow Hall voters — working the rooms and hallways like Perry Mason. Joe was pleased to send Ira to Phoenix to help him cultivate verbal ammunition for future Hall presentations of John Lynch and Barber, who is now eligible for the first time.
In the podcast, Ira explained that he talked to two members of the Hall of Fame selection board and neither believes Barber will be a finalist for the Class of 2018. That speculation means Barber wouldn't make the final-15, the cut needed to be presented for an induction vote.
Ira said that's a bad sign and he's already hearing takes that Barber was a "system cornerback," and that he wasn't a cover corner. Overall, the vibe on Barber was mixed.
On the upside, Ira said he believes Barber will, in fact, make the final-15 cut, but there is work ahead to be done.
Joe's just sharing a peak into the process. Perhaps Joe — or Team Glazer? —  should send Ira on a paid sabbatical across the country to educate Hall voters on Barber, Lynch and Simeon Rice?