Key To New, Fat Will Gholston Contract
March 6th, 2017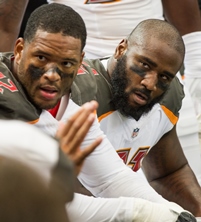 Ok. Defensive end Will Gholston hit lotto from the Bucs, avoiding free agency. Good for him! The young man is a great story.
But now it's on the Bucs to do the right thing.
Gholston is a part-time player. Don't believe it? Look up the snap counts during the Bucs' five-game winning streak last year, when the defense was at its very best.
That's why Gholston is only getting paid $7 million per year. Young DEs like him who can ball stuff the run — and rush the passer — earn at least $10 million.
What's key here is Bucs coaches not feeling or getting pressure from the front office to put Gholston on the field in passing situations, where he becomes a below-average player.
That happens all the time in the NFL. A dude gets drafted high or is paid well and there's all kinds of pressure to make him earn his money — whether he can or not.
Joe doesn't want to see that happen with Gholston.
Joe will give the Jason Licht regime credit. Outside of forcing Josh McCown down fans' throats, letting Michael "Ghost" Johnson stay on the field when he was dragging down the entire defense, there's been very little whiff of high-investment players getting preference over more deserving guys.
Joe hopes that continues. And yes, Joe's looking at you, Mr. Aguayo.