Julius Peppers And The Bucs
March 8th, 2017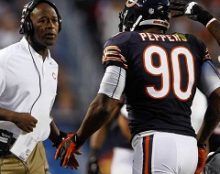 In a football world where sacks are gold bars and the Bucs general manager says an enhanced pass rush will push Tampa Bay over the hump, Joe thinks minds should be open at One Buc Palace.
Is there a crime in desiring part-time help pressuring the likes of Drew Brees, Matt Ryan and Cam Newton?
This turns to Joe the concept of an old, crafty super-talented pass rusher. Joe's seen how Dwight Freeney has helped his last two teams — Arizona and Atlanta.
Joe also saw Jason Licht chase but miss DE Trent Cole in free agency last year.
So that brings Joe to defensive end Julius Peppers, a can't-miss Hall of Famer and one of the best athletes to every wear a helmet. His time in Green Bay appears done. The 37-year-old has 143 1/2 sacks under his belt, including 7 1/2 last year. Peppers hasn't missed a game in 10 years!
The No. 2 overall pick in the 2002 draft is just the kind of old warrior a team looking to make a championship push might sign. Do the Bucs see themselves in that light? That's a key question here.
Perhaps Peppers wants to get out of the cold and line up as a nickel pass rusher alongside a stud disruptor like Gerald McCoy? Joe doesn't think the idea should be dismissed completely.
The Bucs need to get younger on their D-line, but adding a Peppers-type guy doesn't mean they can't.