Drafting McCaffery Means "Expanded Canvas"
March 24th, 2017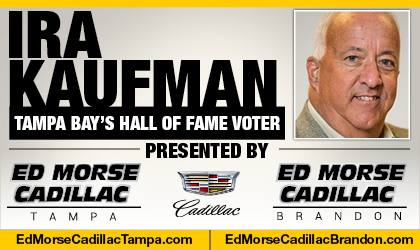 BY IRA KAUFMAN
This column goes out to all of those Dalvin Cook fans in Buc Land.
Admit it, thousands of you will be disappointed if your beloved Bucs pass on Cook if he's still on the draft board at No. 19 next month.
I understand your position because Tampa Bay residents got to see Cook wreak havoc every week as a running back for Florida State.
But there's another intriguing back in this draft who could be available when the Bucs make their initial pick, a prospect who might be an even better fit for Dirk Koetter's offense.
"He's an electric triple threat," NFL Network's Bucky Brooks says of Christian McCaffrey, the Stanford running back who as a sophomore in 2015 shattered the NCAA all-purpose yardage mark set by Barry Sanders in 1988. "He can impact a game in a variety of ways — as a runner, a receiver and as a return man."
McCaffery posted a 4.48 time in the 40, better than Cook or Leonard Fournette, and his pass-catching skills are phenomenal.
"When you say Christian McCaffrey, he can run, he can catch, he can return punts and kicks," said ESPN's Mel Kiper. "You can put him in the slot. You can put him out wide. That's why he's a top prospect and why people have him going much higher than people originally thought."
McCaffrey should have won the Heisman as a sophomore and he followed with another standout season last fall. His intangibles are off the charts, but he did generate criticism when he skipped the Sun Bowl to focus on his preparation for the draft.
Hey, it's the Sun Bowl.
Koetter Craving
That decision won't cause a single NFL scout to pause in his sterling evaluation of McCaffrey, who comes from impressive bloodlines. His father, Ed, was a former NFL wide receiver and his mother, Lisa, was a soccer star at Stanford.
When Koetter watches McCaffrey's tape — and he's seen a lot of him — this 20-year-old's versatility has to excite him. It has to set Koetter's mind racing about all the ways McCaffrey could potentially impact the 2017 Bucs.
"The interesting thing about Christian is it really depends on what offense he goes to," NFL Network's Steve Smith says "He needs to go to an offense that can utilize all the great attributes he has."
We know that Koetter craves more weapons to maximize Jameis Winston's effectiveness. McCaffrey fills the bill in so many ways.
"For me, the whole key is you've got to have a game plan for this kid," says NFL Network's Mike Mayock.
Many mock drafts have the Eagles selecting McCaffrey at No. 14, but he could slide past Philly and still be on the board five picks later. Running back is certainly a glaring need for Tampa Bay and McCaffrey's unique skill set could be difficult to pass up.
Creative Artistry
His college tape is very impressive and McCaffrey capped that fabulous sophomore season by accounting for 368 all-purpose yards in the Rose Bowl as Stanford trounced Iowa 45-16.
Koetter made his bones in the NFL as an innovative offensive coordinator, a creative coach who knows how to utilize his talent and exploit the weaknesses of opponents.
Adding McCaffery and DeSean Jackson to the mix in Tampa would give Koetter an expanded canvas to work his magic.
"A team that understands how to use that running back as a matchup nightmare is going to make Christian McCaffery a star at the next level," Brooks says.
There's a new video out of McCaffery playing the melody to Billy Joel's "Piano Man" on harmonica. He's not a polished musician, yet McCaffery never misses a beat.
He and Koetter could make some wonderful music together in Tampa.
Ira Kaufman is Tampa Bay's only Hall of Fame voter. His columns fire here at JoeBucsFan.com every Monday, Wednesday and Friday, and his very popular podcasts pop Tuesdays and Thursdays.