Win Now, The Song Of The NFC South
March 15th, 2017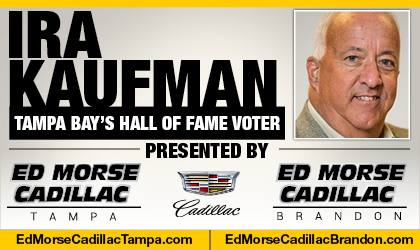 BY IRA KAUFMAN
Don't sleep on the Saints.
"The puzzle's beginning to come together, and I think we're all very excited about that," Drew Brees said in an interview with WWL radio in New Orleans.
While Carolina and Atlanta took turns representing the NFC in the past two Super Bowls, New Orleans has been treading water on Canal Street. The addition of DeSean Jackson has caught the attention of Tampa Bay's rivals in the NFC South and the Saints have been showing signs they are serious about competing for the division title.
At first glance, the departure of Brandin Cooks robs Brees of a prime target, but do you really believe he can't make do with Michael Thomas, Willie Snead and free-agent addition Ted Ginn Jr.?
As any Buc fan can attest, Brees makes everyone around him look dangerous. That's what Hall of Fame quarterbacks do, and Brees will waltz into Canton five years after his retirement.
At the age of 38, Brees sees the finish line on a remarkable career — and so does Sean Payton. That's why the Saints are in an aggressive mode during this short window.
After three consecutive 7-9 seasons, the gumbo needs serious stirring in New Orleans, so the Saints are getting busy. They have already re-signed defensive tackle Nick Fairley and added Ginn, linebacker A.J. Klein, guard Larry Warford and pass rusher Alex Okafor.
Now they are looking at Patriots cornerback Malcolm Butler, a restricted free agent who was tendered at a first-round level. Unless the Saints can work out an alternate deal with New England, signing Butler to an offer sheet could end up costing New Orleans the 11th pick in the draft.
That sounds like a lot, but Butler is only 27 and he's a heck of a player. If the Saints team him with corner Delvin Breaux and safety Kenny Vaccaro, they would have the makings of a stout young secondary.
Matching Tampa
That's more critical than ever now that the Bucs have secured a speedy downfield complement to Mike Evans. Don't think the addition of Jackson hasn't raised concern in Atlanta, Charlotte and New Orleans.
The Saints are going to score their points — they always do. Last year, they ranked first in total yards and No. 2 in scoring offense.
They scored 55 offensive touchdowns, compared to 37 for the Bucs. Although Cooks will now be catching passes from Tom Brady, don't fret about Brees.
"I think Ted Ginn has played some of his best football over the last two years when he made his way back to Carolina the second time," Brees said. "He's been a big part of their offense. He's made a bunch of explosive plays. I think more impressive than that though, he's always been a fast guy, but he's become a very polished receiver in a lot of ways."
Brees is tired of trying to win shootouts every week. New Orleans lost four games last season by three points or less and the Bucs were the only team to hold the Saints under 16 points, winning 16-11 at Raymond James Stadium.
The Dagger
But two weeks later, in a game the Bucs simply had to win, Brees was masterful in a 31-24 triumph at the Superdome that effectively ended Tampa Bay's playoff hopes.
Even if the Saints land Butler, they won't close the gap on Tampa Bay unless they find a pass rusher to help Cameron Jordan. New Orleans posted only 30 sacks and 9 interceptions last year (the Bucs had 17) … and those two numbers go hand in hand.
"I think we're just a few pieces away," Brees said.
Maybe the Saints pass on Butler and try to find an edge rusher with the 11th overall pick. Maybe New Orleans can find a way to package the No. 32 choice with another pick or two and finalize a deal with Bill Belichick for Butler.
Either way, the Saints still must address an anemic pass rush. And that weakness just became even more glaring with the specter of Jameis Winston , under little duress, looking for Evans, Jackson, Adam Humphries and Cameron Brate.
The Saints are also desperate to rediscover their mojo at home, where they are 11-13 in the past three seasons. In the six previous years, New Orleans boasted a 37-11 record at the Superdome.
The Bucs currently have better personnel than New Orleans, but the Saints will be dangerous as long as Brees is stepping up in that well-protected pocket. Like Tampa Bay, this is a franchise in win-now mode.
Brees can't go on forever, and he deserves another shot at the brass ring. It's starting to look like the Saints are serious about shedding that Big Easy label they've earned for the past three years.