Sifting Through The Combine Chatter
March 3rd, 2017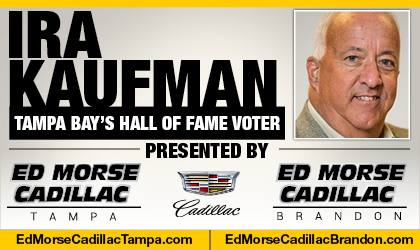 BY IRA KAUFMAN
We parse words. We study body language. We try to fill in the blanks.
If you're an NFL fan, that's what you do when the Combine rolls around and a succession of coaches and GMs take turns at the podium before gaggles of hungry reporters.
On Wednesday morning, before they examined the EKG charts of 330 prospects, Dirk Koetter and Jason Licht spoke for a combined 25 minutes on the state of your Tampa Bay Buccaneers.
The primary message: we're not there yet.
No kidding. When you've gone nine seasons without a playoff appearance, you're not there yet.
But these Bucs are close. You can tell by the enthusiasm of the Buc brain trust as Licht and Koetter.
This is the time of year when fans have to trust their instincts. No coach or executive wants to tip his hand at the Indy Combine, but if you look closely enough, you can smell the tea leaves.
For instance, it's now more clear than ever that Mike Glennon simply isn't interested in being Jameis Winston's backup, no matter how many shekels the Glazers throw his way.
I'm hardly surprised Glennon politely declined Tampa Bay's offer for a lucrative contract extension. In our private conversation after the season finale, Glennon made it clear he wants an opportunity to start.
Looking around the barren NFL landscape, who can blame him? Why shouldn't he think he can beat out Bryce Petty and Christian Hackenberg and win the Jets job?
Final score — Glennon is moving on and so are the Bucs.
Mangold Over Sweezy Shakeup
Licht and Koetter didn't sound particularly concerned about an offensive line that blocked poorly at times in the run game last fall. Perhaps the specter of a healthy J.R. Sweezy has the Bucs thinking they don't need help up front, but I'm not buying what they're selling.
I still think signing center Nick Mangold for the right price would be a smart move, adding a seven-time Pro Bowler who missed only four games in his first 10 seasons before a severe ankle injury limited Mangold to eight starts last year.
Mangold adds character to any locker room and he can still play at a high level. The Bucs could use a mid-round draft pick on a center and groom him behind Mangold for a couple of years.
Instead of moving Ali Marpet from right guard to center and adding Sweezy as a starter, I say sign Mangold, keep Marpet where he belongs and let Sweezy duke it out with Kevin Pamphile at left guard.
If Sweezy becomes a quality backup, so be it.
Extinguished Stars
On the subject of Vincent Jackson, Licht and Koetter expressed their deep respect for a veteran receiver who proved to be a savvy free-agent addition in 2012.
Those remarks are justified, but let's not get carried away … that ship has sailed.
The Bucs will add at least a couple of receivers in the offseason and Jackson no longer fits in their plans.
I don't see Jackson or Doug Martin returning this fall, but I wouldn't count out Martin resurrecting his career with another club. For the Bucs, the temptation to walk away from Martin's contract will be too enticing to pass up.
Soon, speculation will give way to new bodies, maybe even some expensive new bodies, for a team that isn't there yet.
"We have more than one position where we're not sure how it's going to shake out," Koetter said.
Shake, rattle and roll, Mr. Licht.