Bucs On Right Side Of NFL Divide
March 1st, 2017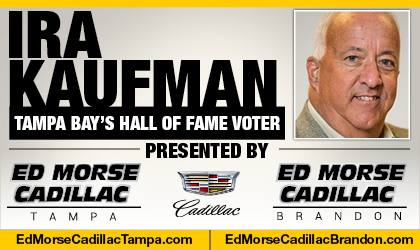 BY IRA KAUFMAN
Things could be a heck of a lot worse.
While diehard Buc fans break down the potential free-agent pool and try to find tape of a safety from Appalachian State, other NFL clubs head into the new NFL calendar looking for the Big Kahuna.
A quarterback.
And good luck to you, Jets, Browns, Bills, Broncos, Rams, 49ers, Texans and Bears.
Yes, the Bucs need help in several areas. They hope to come out of the draft and free agency with a speedy wide receiver, an impact running back, an upgrade at center and another quality defensive lineman.
It's an ambitious list, but the Bucs have the money, desire and draft pedigree to check off the boxes. Now imagine if they didn't have Jameis Winston under center.
What does it say about the scarcity of big-time quarterbacks around the league when brittle Tony Romo is coveted as a savior? Despite attempting only 94 passes during his three seasons as Tom Brady's backup, Jimmy Garoppolo is now being viewed as the next Troy Aikman.
That's called desperation, people.
Top-10 In Tampa?
"There's only eight or 10 franchise guys in the league," says NFL Network analyst Mike Mayock. "I could name you half the league that needs a quality starting quarterback."
Not here in Tampa, Mike.
Like Winston, Marcus Mariota appears to have a very bright future. That 1-2 tandem atop the 2015 draft could own this league by the end of the decade.
But when you look at the quarterbacks who were available in 2016 and then gaze at this year's crop, it makes you realize just how important it was for the Bucs to land their man.
It wasn't easy.
Let's remember that in the 2014 season finale, Tampa Bay led New Orleans 20-7 at home early in the fourth quarter.
This was a problem because the 2-13 Bucs were in grave danger of ceding the first overall pick to the Titans. And with all due respect to Herm Edwards, in this case, you play to lose the game.
So the Bucs brain trust did just that. Mike Evans didn't play in the second half,  joined on the sidelines by a healthy Lavonte David.
Another Down Year
After the 23-20 setback, former head coach Lovie Smith said the Bucs wanted to look at other players at wide receiver and weak-side linebacker.
Nice try, Lovie. Those are called alternative facts.
But the strategy worked and now the Bucs have a quarterback they trust while other clubs scramble to find a keeper in the draft.
"I don't have any quarterbacks anywhere near the Top 10," says Mayock. "As far as this particular draft, any of those top four guys — Kizer, Watson, Trubisky and Mahomes — I don't have a Top 10 grade on any of them."
Maybe last year's No. 1 pick, Jared Goff, will work out for the Rams. Perhaps Carson Wentz, chosen at No. 2, will lead the Eagles back into prominence. On initial glance, last year's draft class wasn't exactly a bonanza for quarterbacks — with the exception of Dak Prescott.
And I don't see a Winston or a Mariota coming out of this 2017 group, although Jon Gruden is conducting another QB class for ESPN. Surprise, surprise.
Good luck drumming up much excitement for DeShone Kizer, who barely completed 50 percent of his pass attempts in his final two games with Notre Dame last November.
Meanwhile, the Bucs might be on the lookout for a backup quarterback.
World of difference.