Gaining Ground On Jason Licht's Terms
March 10th, 2017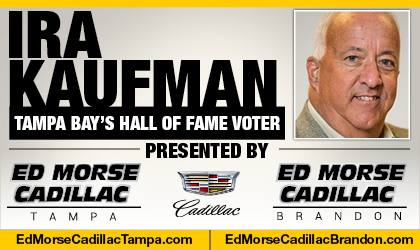 BY IRA KAUFMAN
Buc fans don't know how good they have it right now.
Have you seen what's going on around the National Football League? Mayhem. Crazy stuff. These people are nuts.
The Redskins are threatening to bump the Browns off their perch as the league's most dysfunctional franchise.
Former Bucs GM Bruce Allen is the ringmaster of this circus in the nation's capital, managing to retain his power despite doing very little right in the executive suite for the past 15 years. Does this guy have compromising photos of Daniel Snyder in his office safe?
The Jaguars, hacked off about last year's debacle, lost their minds and emptied their wallets in free agency. With Tom Coughlin now calling the shots, Jacksonville took the old Redskins approach and threw money around like a tipsy sailor.
Guess what? None of that will matter unless the Jags straighten out Blake Bortles, who looked lost at sea in 2016.
The Browns are stockpiling draft picks like they're the NFL's version of the Philadelphia 76ers. It seeMs like they've been in rebuilding mode since Robert De Niro was still acting in good movies.
With all that cash to spend, how about adding proven players?
Our Terms
The Bears decided to fork over $16 million to Mike Glennon this upcoming season, knowing he has thrown all of 11 passes since Jameis Winston arrived in Tampa two years ago.
In the midst of all the madness, the Bucs go about their business quietly, content to make their news in September.
Yes, DeSean Jackson was a high-profile free agent, but the Bucs signed him on their terms. He'll get his money, but it's not crazy money. I'll be surprised if Jackson is still playing for Tampa Bay past 2018, but that's alright.
For two years, he'll be the deep threat missing around these parts since Joey Galloway was running down balls from Chris Simms and Jeff Garcia. Jackson won't make a lot of catches, but they will be big ones.
Mike Evans moves the chains as well as any wide receiver in pro football.
Jackson moves the needle.
Ground Gained
Chis Baker will fit in nicely as a rotational defensive tackle, but I'm not going to be a hypocrite — Calais Campbell would have made more of an impact.
The problem was Campbell triggered a bidding war. By the time the Jaguars and Broncos stopped their dollar dance, Campbell waltzed away with a massive contract.
Baker represents good value for Tampa Bay (less than half of Campbell's salary) but don't let anyone try to convince you he's a better player than Campbell.
He's not.
Coming away with Jackson and Baker on Day 1 is a solid start for Jason Licht and Dirk Koetter. They addressed a pair of needs and received the blessing of the Glazers, who surely had to sign off on the Jackson deal.
Now there's more work to be done and I've got a feeling the Buc brain trust is just getting started.
The running back issue must be resolved and there are plenty of intriguing options looming in the draft. Adding a veteran center makes sense, a bridge anchor who can keep Ali Marpet at right guard.
Safety is still a concern, even if Bradley McDougald returns to join Chris Conte and Keith Tandy. That's not a championship trio, and depth at cornerback looks spotty at this point.
If that sounds like a scary scenario, it's not. Look at all the teams who are still looking for the right guy under center.
The Bucs have that guy, and that's half the battle.
Fans in Atlanta, Charlotte and New Orleans have to admit the Bucs gained ground on the rest of the NFC South on Thursday.
Get used to it.
Tampa Bay's only Hall of Fame voter, Ira Kaufman. churns out columns for JoeBucsFan.com every Monday, Wednesday and Friday, plus podcasts on Tuesdays and Thursdays.