Aguayo Now On The Trade Block?
March 18th, 2017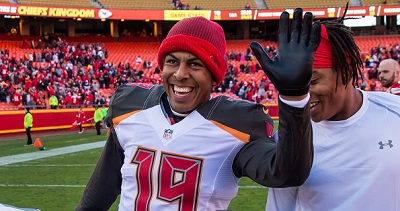 The Bucs signed the most accurate kicker in Jets franchise history last night, Nick Folk.
It was a move Joe first barked about four weeks ago when the Jets dumped him after a standout 10-year career.
Hell, Joe ranted about Folk on WDAE-AM 620 last Wednesday evening and again on the Ira Kaufman Podcast.
Bravo for Jason Licht placing more importance on winning and improving than on where and when Roberto Aguayo was drafted. Bravo!
Now does anyone believe Folk, 32, inked a deal with the Bucs to be a part of phony competition with Aguayo?
Of course not. And then you have to wonder whether Folk was told the kicking job is his job to lose.
Remember, Folk drilled 87 percent of his kicks in 2016, including 5-of-7 from 40-plus yards. Aguayo made 71 percent and was 4-of-11 from 40-plus. They both missed two extra points. Aguayo was the worst full-time kicker in the NFL last year.
Folk is the better kicker — with playoff experience.
So Joe has to believe the Bucs would be happy to trade the talented but directionally-challenged Aguayo. There's a reason Aguayo was drafted in the second round, and perhaps a team out there is willing to cough up a late-round pick to see if Aguayo can rebound. Cleveland comes to mind.
If Licht can somehow find a sixth-round pick, then he should pounce.