Could Emmanuel Sanders Be Cut?
February 25th, 2017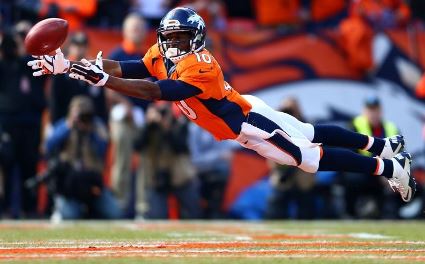 Now Joe is playing hopscotch here but stranger things have happened (you know, like a Bucs coach actually thinking Stewart McClown was a playoff quarterback?).
Clearly, we all know the Bucs need a receiver and worse, a speedy receiver. If the Bucs added three talented receivers this offseason, it wouldn't shock Joe. Really.
As Joe has documented, DVR'ing PFT Live on NBC Sports Network weekday mornings, hosted by the creator, curator and overall guru of Pro Football Talk, the great Mike Florio, is a smart move.
In between slugs of Peet's Coffee Big Bang, Joe heard Florio this week talk about how field-stretching Broncos wide receiver Emmanuel Sanders allegedly blew off a practice by telling coaches he had to be at the birth of his son. Instead, his estranged wife claims Sanders went out partying.
Hey, can't a guy down a few shots with his boys celebrating the birth of his son?
Indeed, TMZ dug up Sanders' wife's divorce filings and found the claim, among many other juicy tidbits. Sanders' estranged wife also hints he had girlfriend problems as well, or as Florio coined (Joe's new favorite phrase), "widespread adultery."
Florio speculated on PFT Live this might be a way for the Broncos to get out from under a heavy contract. If the Broncos suspend Sanders for conning coaches (allegedly), that would void Sanders' guaranteed cash of $6.75 million this season.
Now if all of this plays out, a much more reliable version of DeSean Jackson becomes available. Sanders, who will turn 30 on St. Patrick's Day, has missed a grand total of one game the past five seasons. Jackson, 30, has missed 13 games the past five years.
Sanders also returns kicks and punts.
Yes, all of this may be a complete pipe dream. It is also fair to ask if a guy (allegedly) would hoodwink his coaches in order to hit the bars under the guise of being present at the birth of his son, and his soon-to-be ex-wife claims in court papers Sanders is dealing with sidechicks issues, why would you want that kind of clown in your locker room? Again, fair question.
But as Florio might say, this situation bears monitoring.