Would Jameis Stomach DeSean Jackson's Practice Absences?
February 27th, 2017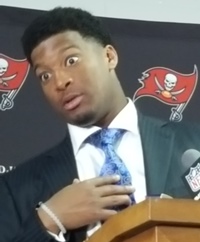 Voluntary doesn't really mean voluntary in the NFL.
Ninety-nine percent of coaches and players won't talk about what really happens when a player misses one of the many "optional/voluntary" practices throughout the spring just because he wants a day off.
It's a taboo topic in the NFL world.
Would a coach or general manager hold it against a player for taking off a few weeks in May to put his feet up, get rubbed down by Swedish women and mentally prepare for football season? You're damn right he would, even though those May practices, aka OTA days, are "voluntary" per league rules.
Fans from New Port Richey to Lakeland to downtown St. Pete are hot in the pants at the thought of the Bucs signing explosive wide receiver DeSean Jackson next week in free agency.
The man is a lightning-quick baller, leading the NFL in yards per catch in two of the past three seasons.
But many Bucs fans might not realize Jackson is well known for skipping his share of spring practices, as noted by CSNMidAtlantic.com last year.
Jackson missed the first two weeks of Redskins OTAs before joining his teammates for Monday and Tuesday's activities. The 29-year-old, though, did not practice on Wednesday—the only session of the week that was open to reporters.

Jackson also seemed to confirm reports that he made a conscious decision to forfeit a $500,000 workout bonus that was tied to him attending 90 percent of the team's offseason program.

"You know, you hear the reports, people saying I forfeited the workout bonus," he told Michael. "Don't get it wrong; it's definitely something I would have loved to do. But spending that time with my family and doing things on that side of the world definitely pays off."
So how would America's Quarterback, Jameis Winston, react to a teammate who doesn't' always put the team first?
Jameis, the unquestioned leader, is always preaching "family" and the brotherhood and grind of his Bucs family. How might Jackson chilling with family in Los Angeles while the Bucs are sweating their asses of in Tampa jibe with that?
Joe sees Jackson's practice attitude, which is unlikely to improve with age, as a major concern in the walls of One Buc Palace. Joe's confident Dirk Koetter isn't ready to claim he fully accomplished the culture change he spoke about crafting last fall.