He's The Franchise
February 3rd, 2017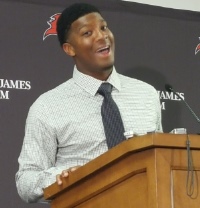 Looking back at the 2016 season, a former Bucs quarterback believes it was a strong season for the current Bucs quarterback.
That's what Trent Dilfer said about America's Quarterback, Pro Bowler Jameis Winston.
Taking to the airwaves recently on WDAE-AM 620, Dilfer is of the mind the Bucs are in good hands.
"I thought it was very good," Dilfer said of Jameis' season. "I think the eyeball test of all the quarterbacks I talk to, guys that have played the position at the NFL level or guys that have coached at a high level, they will all tell you he has got it. He passes the eyeball test. He has all the things you are looking for in a big time guy, a guy who you can put the franchise on his shoulders. I think that is what you are looking for by the end of your third year and [Jameis] has done it by the end of his second year."
Dilfer also dropped the word, "exceeded" in reference to Jameis.
Joe looks at teams so desperate for quarterbacks; they make moronic trades or grossly overpay for schlock talent and further put their teams in purgatory.
The Bucs were once that type of a team. No more!