Let's Get This Done
February 3rd, 2017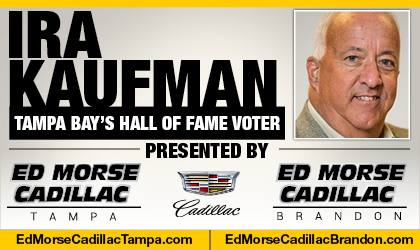 BY IRA KAUFMAN
HOUSTON — We're locked, loaded and ready for takeoff.
It won't be long before I present John Lynch's case in front of the Hall of Fame Selection Committee for the fourth consecutive year. It's a heck of a case.
A week that began with Lynch's new job as GM of the 49ers could end with his entrance into Canton.
I like his chances.
As Tampa Bay's lone Hall of Fame representative since 2005, I am charged with making Lynch's presentation to 47 fellow selectors Saturday morning in a conference room at the cavernous George Brown Convention Center.
Lynch is a compelling candidate, but a maximum of five modern-day candidates can be selected in any single class. That means at least 10 of 15 finalists are turned away each year — and Lynch knows the feeling.
I've got a dynamic seven-minute speech prepared to reach into the hearts and minds of the voters, including a pair of Hall of Fame players in Dan Fouts and James Lofton.
Expect Fouts to deliver heartfelt support for Don Coryell, his former coach in San Diego. This is the first time the Hall is allowing players to speak up and cast a vote.
I think you'll see more Hall of Famers in the room in future years, and it doesn't hurt to have a variety of voices at the ballot box.
Three Rings
Coryell is competing against Lynch for one of the coveted spots, and so is former Eagles safety Brian Dawkins, in his first year of eligibility. Lynch won't win the statistic battle against Dawkins, but Tampa Bay's defense was dominant for a long stretch, with Lynch playing a pivotal role from the back.
And after the Bucs gave up on him in 2004 following neck surgery, Lynch moved on to Denver — different conference, different teammates, different scheme — and made enough of an impact there to make the Broncos Ring of Honor.
"Over the years," says John Madden, "I've had as much respect for John Lynch as anyone who played the game. Off the field, he was angelic. On it, he was as tough as they come."
The Senior Candidate this year is Kenny Easley, an All-Decade safety for the Seahawks in the 1980s. Voted on separately from the modern-day candidates, Easley is almost certain to make the Class of 2017.
And if you believe three safeties are going in the Hall this year, I've got a stadium to sell you in St. Petersburg.
Not gonna happen.
It may come down to Lynch vs. Dawkins and if that's true, I like the chances of No. 47, who remains a model of safety play for the new generation.
"I watched a lot of his tape," says Giants Pro Bowler Landon Collins. "The guy was phenomenal at his job and opened the door for the rest of us. John Lynch inspired us to be the safeties we are today."
Critical Call
Of Lynch's 26 career interceptions, 14 came in the fourth quarter. None was bigger than his theft of a Brad Johnson pass in a 2000 playoff game against Washington. The Bucs were dead in the water, trailing 13-0 late in the third quarter, when Lynch's pick triggered a 14-13 comeback win.
Tony Dungy said Lynch had more responsibility in the Tampa 2 than Derrick Brooks or Warren Sapp. Brett Favre said any Cover 2 scheme will be shredded if you don't have an elite safety like Lynch manning the back end.
Let's be honest — the Bucs are still looking for the next John Lynch. My sense here in Houston is that Lynch's new job will have no effect on his Hall of Fame candidacy, and I'm fine with that.
This is THE critical year for Lynch's Hall of Fame aspirations. Next year's class is loaded — Ray Lewis, Randy Moss, Brian Urlacher, Ronde Barber.
Ed Reed comes along in 2019, and the 2020 list of finalists is likely to include Troy Polamalu, the same Steelers safety who gave Lynch his Super Bowl helmet, "because he meant so much to me as a football player."
It's time for John Lynch to join Brooks, Sapp and Dungy in the NFL's shrine of excellence. He's on the Canton doorstep … all he needs is a nudge to get in.
Let's get this done.
Tampa Bay's only Hall of Fame voter, Ira Kaufman, pens columns for JoeBucsFan.com Mondays, Wednesdays and Fridays, and Ira churns out his popular podcasts here Tuesdays and Thursdays. You can also listen to the award-winning podcasts on iTunes or Podbean.