Mike Glennon & The Saints
February 22nd, 2017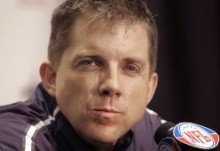 It seems there's a Super Bowl–winning coach who hasn't forgotten his yearning for the Bucs' nearly-departed gunslinger.
Sean Payton is the most renowned Mike Glennon fan this side of the Ohio State coaches' offices.
Back in 2014, Payton talked about his history with Glennon and how he almost was drafted by New Orleans. Joe took notes.
"I think he's got a real good arm. I think his timing, his feet are very good. His feet are exceptional, I think, for his size. So he's got good athleticism," Payton said of Glennon. "He can locate the ball and make all the throws. He was a player that we had real high grades on in the third round. Ironically, that discussion that came up, I can remember like it was yesterday. [Tackle] Terron Armstead, Glennon was right in that cloud, if you will.

Payton clarified that "cloud" means a group of players the team wanted to draft.

"I just remember the evaluation process. I had a chance to work with closely, a coordinator Dana Bible, who's retired now. But Dana [who coached Glennon at N.C. State] I remember calling me on Mike and giving good reviews, I mean over and above. So we studied more tape. And he was someone that was in the mix. I recall him specifically because we saw a lot of things we liked. And now, unfortunately, he's in our division and we're watching him."
Well, yesterday, Payton chatted about eventually replacing ancient Drew Brees on SiriusXM NFL Radio, as documented by ProFootballTalk.com.
And it sure sounded like he still has Glennon on the brain.
"I think that topic exists and has existed because of the nature of the position," Payton said. "I think we're in the quarterback business always because they're so difficult to find. And there's been a year or two we're close to drafting maybe a player and he went a little before we were ready to pick. And certainly you pay attention to it when your quarterback's older."
So will Glennon end up in New Orleans?
Joe could see it happening. Glennon won't find anyone who wants to make him a starter, so he chooses to back up a 38-year-old quarterback. That's a better opportunity for Glennon than holding a clipboard for a 23-year-old.