Next For The Ring Of Honor Is …
February 22nd, 2017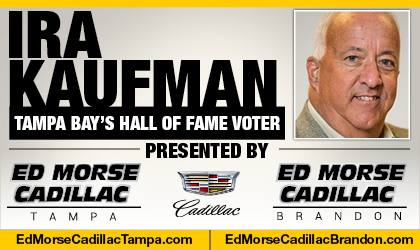 BY IRA KAUFMAN
Who will be No. 10?
That's the question of the day as the Buccaneers consider who should follow John Lynch into the Ring of Honor.
The Bucs broke protocol 13 months ago when they confirmed my initial report that Lynch would be their ninth Ring of Honor recipient. Instead of waiting until summer, as usual, the organization made Lynch official in January, 2016.
That word came down a few weeks before I made my third presentation on behalf of Lynch as a finalist for the Pro Football Hall of Fame. Four months later, Lynch was announced as a new member of the Ring of Fame for the Broncos.
In naming Lynch so early, the Bucs were trying to boost his Hall of Fame chances. Led by senior writer/editor Scott Smith, the Bucs also provided valuable research for my efforts to land Lynch in Canton.
We're still trying.
I have no doubt Lynch will be back in the room next February in Minneapolis for the fifth time as a Hall of Fame finalist, joined by Ronde Barber in his first year of eligibility.
But now it's time to figure out who should join Lynch, Doug Williams, Mike Alstott, Derrick Brooks, Warren Sapp, Paul Gruber, Jimmie Giles, John McKay and Lee Roy Selmon atop the east façade of Raymond James Stadium in 2017.
Tony Time
First things first.
The Bucs honored Sapp (2013) and Brooks (2014) in the same year they earned busts in Canton. The team chose not to add a second Ring of Honor ceremony last fall, even though Tony Dungy joined Brooks and Sapp in the Hall in 2016.
There was precedent for that twin-ceremony scenario because Alstott and Williams were honored at halftime of separate games in 2015.
So where does that leave Dungy, who quickly turned around a joke of a franchise after arriving in Tampa in 1996?
It should logically leave him as the 10th man up.
Certainly, there are other strong candidates as well. James Wilder is the franchise leader in career rushing yards and receptions, ranking second to Alstott with 46 touchdowns.
Jon Gruden coached the 2002 Bucs to a Super Bowl victory, also posting division titles in 2005 and 2007.
Warrick Dunn ranks behind Wilder and Alstott on the career rushing list and stands No. 3 in receptions behind Wilder and Mark Carrier.
Simeon Rice registered 69.5 sacks in six seasons with Tampa Bay, adding the final touches to a historic defense. Barber ranks No. 1 in interceptions, first in TDs by a defensive player (14) and second behind Brooks in total tackles.
Overdue
It's a formidable list of candidates, but Dungy makes the most sense.
I know some Buc fans still question Dungy's credentials as a Hall of Famer, especially because Tampa Bay didn't go all the way during his six years on the sidelines.
But Dungy's overall winning percentage (.668) ranks seventh all-time for coaches with at least 100 victories. The only men ahead of him are John Madden, George Allen, George Halas, Don Shula, Bill Belichick and Paul Brown.
Five of those coaches already have busts and Belichick is a non-brainer.
Dungy won a Super Bowl with Indianapolis, but he did his best work in Tampa. He needed only nine games to establish a winning culture as the 1996 Bucs finished 5-2 before the breakthrough '97 season.
The first head coach hired by the Glazers now enjoys a permanent place in the NFL's shrine of excellence. That should be enough of a reason to honor Dungy on the field this fall.
The others will surely have their day — Dungy's day is already overdue.