"These Practices Have Taught Me To Go Way Less Than 100 Percent"
January 29th, 2017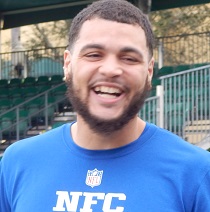 Mike Evans told beat writer Greg Auman that he plans to go hard in the Pro Bowl tonight for the extra $32,000 given to members of the winning team.
Evans was either joking or has since been enlightened.
Joe talked to Evans this week about how the Pro Bowl is notorious for three-quarter-speed play and effort.
JoeBucsFan.com: Do you even know how to go less than 100 percent?

Mike Evans: Yeah, I do. Absolutely. (laughs) These [Pro Bowl] practices have taught me to go way less than 100 percent. And, you know, guys don't want to get hurt. It's not like the NBA All-Star game, where you're just dunking a basketball and shooting jumpers. This is guys getting tackled, biggest strongest dudes just running and tackling each there. I'll get the sense of the speed when I get out there. I'm still going to try to make some plays, for sure.
Just don't get hurt, Mike! We all remember what happened to Bengals tight end Tyler Eifert last year. He signifcantly trashed his ankle in the Pro Bowl and required surgery.
Regardless, Joe is so happy for Evans getting this reward of the Pro Bowl appearance. He earned it.
It's been more than just jolly, pad-free practices and staying at a resort for him. Joe will tell more of that story tomorrow.