The Case For John Lynch
January 29th, 2017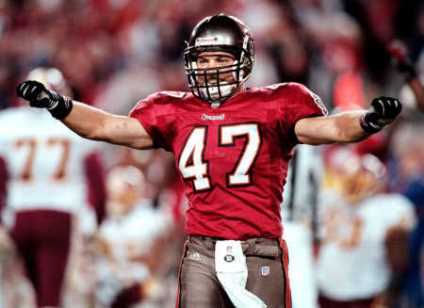 On Saturday morning, it begins.
JoeBucsFan.com columnist Ira Kaufman will saunter into a hotel ballroom in Houston with some 45 other Pro Football Hall of Fame voters, their egos and two subjective former players, to make his case for John Lynch to be enshrined in the Canton class of 2017.
The Custodian of Canton is ready with his sales pitch. But will his fellow voters have an open mind?
Perhaps in an effort to help Lynch (and eye-RAH!), good guy Peter Schrager of NFL Network pounded the coffee table on his weekday morning show, "Good Morning Football" (yes, with co-hosts Nate Burleson, Kyle Brandt and porn-glasses-wearing Kay Adams) to make the case for Lynch.
"My guy, if I am going to put him in there, John Lynch deserves to get into the Hall of Fame," Schrager said. "This is a guy who played 15 years in the NFL at safety. Nine-time Pro Bowler. He's got the Super Bowl ring. Beyond that, it's beyond the longevity. It's what he did at the safety position.

"I think this is more of a position thing. Only 11 safeties are in the Pro Football Hall of Fame. … It really feels like a safety bias. To me, Lynch was the greatest of his generation. He's in both the Broncos and the Buccaneers' Ring of Honor.

"Derrick Brooks and Warren Sapp are in the Hall of Fame. Tony Dungy, who never won a Super Bowl with the Buccaneers, is in the Hall of Fame. But Lynch was the anchor! You can't say, 'Look, you can't put all of those guys in.' No, no, no. That is ridiculous. Put in the guys that are deserving. John Lynch is not only the best safety of his generation, but you put him in and then you can have Brian Dawkins, then you can have Ed Reed, and then you can have Troy Polamalu. Don't slight John Lynch because Warren Sapp got in years ago. Who cares? You have a million Cowboys in the Hall of Fame."
Schrager went on to make several more points about Lynch you can watch in the video linked above. One was, if the Hall of Fame voters (rightly) ding Terrell Owens for being a cancer, then Lynch should be buoyed for being such a good ambassador. Solid point.
Joe senses a growing rush to thrust Brian Dawkins ahead of Lynch, led by outhouse-admiring, airline-napping, steerage-flying, Yogi Berra-worshiping, urinal picture-taking, video game-playing, Taylor Swift-listening, pickpocket-thwarting, Bucs-uniform-frowning, Allie-LaForce-smitten, Big-Ten-Network-hating, pedestrian-bumping, olive oil-lapping, popcorn-munching, coffee-slurping, fried-chicken-eating, oatmeal-loving, circle-jerking, beer-chugging, cricket-watching, scone-loathing, college football-naïve, baseball-box-score-reading, NPR-honk, filthy-hotel-staying, fight-instigating, barista-training Peter King of Sports Illustrated and NBC Sports fame, always a champion of the NFC East.
If that happens, it would be a crying shame.