Mission Accomplished For Humphries
January 1st, 2017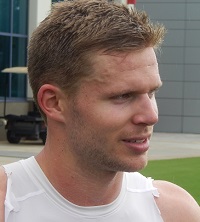 What a year for Adam Humphries, Tampa Bay's favorite walk-on receiver, a true underdog.
Rudy!
Humphries certainly shocked the pants off Joe finishing the 2016 campaign with 55 catches for 622 yards and two touchdowns.
Joe surely would have bet against that.
"Hump," as he's known by many in the locker room, hauled in 10 balls today for 94 yards on 13 targets. It was a glorious exclamation point on a season that was a true mission for the second-year, undrafted slot guy out of Clemson.
Yeah, Humphries tipped pass led to a Carolina pick and was a bad play, but that's a quarterback-receiver timing thing. Joe's not going to hang that all on Humphries.
In June, Humphries talked to Joe about how his goal was to be a national name. Mission accomplished. Fantasy owners across the globe took notice and will next summer. And real football men, defensive coaches across the NFL, now know Humphries, too.
More important, Dirk Koetter and receivers coach Todd Monken have developed a legitimate NFL receiver in the 23-year-old tryout player who walked on to the Bucs in the summer of 2015. Fifty-five catches is no fluky coincidence.
Humphries also was ok in his first season as an NFL punt returner. The Bucs can do bettter — and should — but that's no knock on Humphries solid work there.
Humphries is a small piece to what should be an impressive Bucs puzzle next season.