The Mike Smith Knocks Keep Coming
January 18th, 2017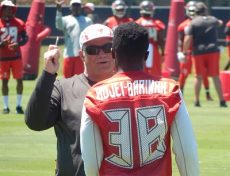 Yes, the Falcons canned Dirk Koetter and Mike Smith two years ago and will return to the NFC Championship game on Sunday.
That's got to be a bit of an ego stomp on the new Bucs leaders.
A further groin slap came yesterday when the subject of Smith's too-soft Falcons arose again.
Atlanta general manager Thomas Dimitroff explained to TheMMQB.com (via ProFootballTalk.com) that the purging of "soft souls" from the Smith regime helped transform the team back to being a winner.
"We all can be swayed, and that has happened to us," Dimitroff said. "Basically, we're trying to limit the soft souls on our football team. We figured this was a way to do that. You can have players that come in that are really good, but if they don't possess competitiveness and toughness, then we're not playing the urgent type of football that we need to be playing. That's where we were."
There was more to the story, but this is nothing new. Smith's team (and Koetter's) was criticized for going "soft" after it reached the NFC title game during the 2012 season.
It's interesting that, in 2014, Smith hired former Bucs and Schiano-man defensive line coach Bryan Cox, known for his in-your-face style. Cox was one of the few coaches retained by new Falcons head coach Dan Quinn, who also hired Raheem Morris to be his right-hand man.
But it's also worth noting that these new Falcons tolerated one of the great loaf sequences of all-time from one of their new, tough-guy players, former Bucs DE Adrian Clayborn. It was loaf city by Clayborn and other Falcons last year on the famous 3rd-and-19 conversion by America's Quarterback, Jameis Winston.
How does a team claiming it's tough sanction that kind of softness?
Regardless, Joe believes the Bucs are on the right track when it comes to player attitude, and they should need just one more offseason to rid themselves of the guys who were the targets of Robert Ayers' bullying in November.