Derrick Brooks Says Gerald McCoy "Is Not Playing Well Right Now"
October 28th, 2015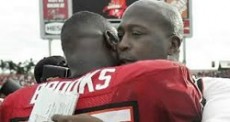 Iconic No. 55 stepped a bit out of character today while co-hosting Tampa-2 with Steve Duemig on WDAE-AM 620.
Brooks was rather direct and hard on Gerald McCoy, considering Brooks rarely singles out players on radio unless it's for specific plays.
"Bottom line: he's just not playing well right now," Brooks said of McCoy, shortly after saying McCoy is not playing well enough.
Brooks seemed to echo Simeon Rice's words from yesterday, that McCoy needs to rise up in crunch time, when every player is dialed in and the greats must stand out.