More Mike Smith Buzz In San Diego
January 3rd, 2017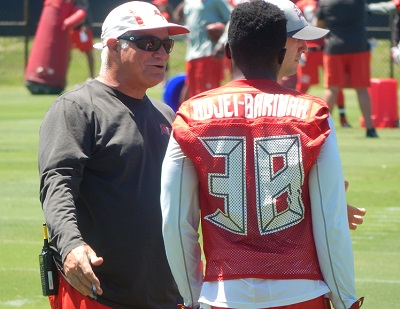 UPDATED 7:34 p.m. When Joe saw Mike Smith standing at the One Buc Palace podium last week sporting a fresh haircut, Joe could only think one thing:
Smith was preparing to look his interview best.
This evening, ESPN reported that Smith will interview in San Diego for the Chargers opening.
Yes, Smith's name is alive and well in the pool of 2017 head coaching candidates. Rightfully so. Smith did a stellar job in Atlanta after taking over a complete mess of a team and managing a rookie quarterback. He ended on a down note but left with a winning record, an NFC Championship appearance and with a mountain of respect across NFL circles.
Most guys with Smith's resumé get second crack at the head-coaching apple.
Last week, Joe found this interesting analysis in the San Diego Union-Tribune, which speculated that Smith is an ideal fit with the Chargers to replace Mike McCoy. The take is that Smith would come cheap, which is important to Chargers ownership, and he is held in high regard by San Diego and coached college ball in the city. The other name referenced is Chucky's former right hand man Rich Bisaccia.
Joe wishes Smith well but certainly hopes he returns to the Bucs in 2017. But with the wide variety of head-coaching openings this season, Joe certainly wouldn't bet a nickel on that happening.