John Lynch Named 49ers General Manager
January 29th, 2017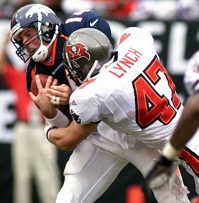 What a stunning announcement!
Bucs icon John Lynch, who jumped from retirement after the 2008 preseason into the broadcast booth, was named general manager of the San Francisco 49ers this evening, per NFL Network.
Whoa! That just doesn't happen in the NFL.
First, the Niners did a great job keeping that a secret. And what a bold move it is.
Joe would have loved to be in those interviews hearing Lynch explain why and how he can run a scouting operation and is a keen evaluator of talent.
This make Lynch's blasting of the Bucs' Mark Barron trade just a little more interesting.
Joe wishes Lynch well. Now it's time for JoeBucsFan.com columnist Ira Kaufman to present Lynch for Saturday's class of 2017 Hall of Fame vote in Houston. It's Lynch's fourth shot as a finalist.