"I Applaud The Move"
January 9th, 2017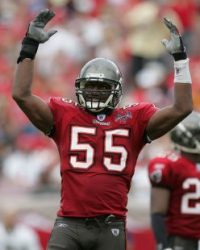 Perhaps the most significant Buccaneers move of 2017 has the full approval of franchise icon and Hall of Famer Derrick Brooks.
For those not paying attention, yes, the Bucs did make an eyebrow-raising move in 2017. They acquired the pride of Liberty football, new fan favorite kicker John Lunsford.
Last season, the Bucs thought it worthless to have any competition in training camp or spring practices for rookie kicker Roberto Aguayo, who missed 64 percent of his field goals from 40 yards or more, an appalling percentage.
Things have changed.
Lunsford is here, and Brooks is on board.
"I'm not worried about [Aguayo] here in the long run," Brooks said on WDAE-AM 620 last week. "But the organization saw fit to take this young man through this experience, just like he's been taken through the experience of being a high-drafted rookie, and see how can he grow and know from competition.

"Nothing wrong with that at this point. I applaud the move. You know, see what he's made of. Another layer of him having an opportunity to show his resilience, just like the resilience to bounce back from a missed kick. Now it's the resilience to embrace competition and got out there to win the right to earn the job again."
Brooks added that he believes Aguayo will "kick the competition out of camp." Joe will note that Brooks, a fellow Florida State University legend like Aguayo, has long been a fan of Aguayo and believes deeply in him.
Joe sure hopes Aguayo can right himself. However, the problem is Bucs coaches already are on record stating they don't have a fix for Aguayo. His problems are all mental, they've said, and they're not kicking gurus.
Joe's really not sure where Aguayo turns from here. He's already sought counsel during the season. Perhaps he can find the right sports shrink of former kicker to mentor him.