Gerald McCoy = Falcons Fan
January 13th, 2017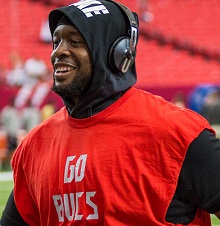 Is it really possible that a Buccaneer could watch the playoffs this weekend and cheer for a division rival?
Absolutely, says five-time Pro Bowler Gerald McCoy.
McCoy is all-in for the Falcons as the playoffs reconvene tomorrow, the start of the divisional round. Atlanta, the No. 2 seed in the NFC, will host the Seahawks. For the memory impaired, the Bucs beat both those teams this season.
McCoy explained his philosophy to BSPN this week. See the video below.
In short, McCoy wants the Bucs playing in the NFL's best division — and that's where the Super Bowl champion resides. So, McCoy wants Atlanta to win it all, just as he did Carolina last season. McCoy also says he's cheering for his good friend Adrian Clayborn, the ex-Buc and current Falcons DE/DT.
This is not a new philosophy for McCoy, who expressed extreme happiness earlier in December when he had a chance to play against the Cowboys' offensive line.
McCoy ranted then about how every Buccaneer defensive player should be jacked up to play against that Dallas O-line and test himself against the best.
Joe gets McCoy's mindset but realizes it's not for everyone, especially fans. For example, Joe can't bear to think of ever cheering for the Stinking Panthers, especially since their cheap shot destroyed Bucs returner Clifton Smith's promising career in 2008.
The Falcons are more tolerable, but Joe would still prefer to see another team win the NFC.
To each his own. Let's hope McCoy doesn't take it too far and Tweet out a picture of himself in a Falcons hat.