CFL Star Receiver Coming To Tampa
January 5th, 2017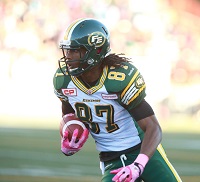 Oh, the irony of the Bucs inking a CFL superstar today in an effort to bolster their receiving corps.
What a buffet of one-liners Joe could bust out.
But this is no laughing matter, 25-year-old Derel Walker coming to Tampa Bay is serious business.
Walker was a star in the Canadian Football League, rookie of the year in 2015. (Perhaps Donteea Dye could replace him in the CFL?)
Walker caught loads of balls at Texas A&M from Johnny Football but a slow 40 time hurt his draft stock and off to Canada he went after getting cut by the Tennessee Titans.
In 2015 for the Edmonton Eskimos, Walker caught 89 balls in 12 games for 1,110 yards and six touchdowns. He followed that up with 109 catches in 17 games for 1,589 yards and 10 TDs.
He's a live body with good hands at 6-2 about 185 pounds.
Joe likes the signing. Bring on the competition and upgrades.