Bucs A Favorite For Hard Knocks
January 4th, 2017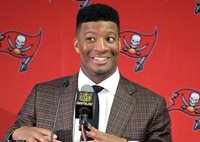 Did you know Dirk Koetter is a former star of the HBO series Hard Knocks?
Yes, Koetter was a gem in 2014 when the Falcons were the focus of every football fan's favorite NFL training camp reality show.
And now it's the time of year when HBO starts looking for a 2017 team.
Most clubs are not interested. So the NFL has a rule that says if you do not have a first-year coach, and your team missed the playoffs the past two years, then HBO can pick your club. However, you're in the clear if another team volunteers or you were on Hard Knocks in the past 10 years.
That means the Bucs are eligible for selection:
Here's the full eligibility list:
Bucs
Browns
Ravens
Eagles
Colts
Titans
Saints
Bears
If it came down to an HBO choice, then Joe assumes the Bears would selected because of the giant Chicago television market. But it sure could be the Bucs. Tampa Bay is the nation's 11th largest TV market and America's Quarterback, Jameis Winston, would be one of the greatest reality stars Hard Knocks has ever seen.