Dirk Koetter Opens Up On Mike Glennon's Potential Return In 2017
January 3rd, 2017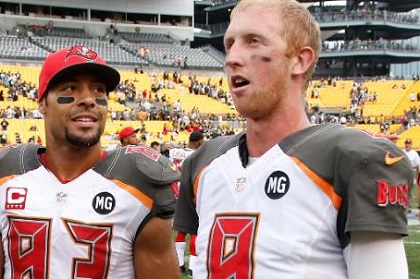 So what's a valuable backup quarterback actually worth to the Bucs while they wait to spend a giant pile of available salary cap cash for the 2017 season?
General manager Jason Licht, of course. But it seems Mike Glennon might have the answer, as well.
Dirk Koetter explained yesterday that the Glennon has been told "on multiple occasions" that the Bucs want to re-sign him. Glennon becomes an unrestricted free agent after this season.
"I'm a huge Mike Glennon fan," Koetter said yesterday on the Buccaneers Radio Network. "The problem with backup quarterbacks is, you know, you hope you never have to play them. … Mike's an unrestricted free agent. So Mike, just the way the collective bargaining is now, Mike's in control of what he does.

"We've made it very clear to him on multiple occasions that we'd love to have him back. But that's way players, the players union, collectively bargained for this setup. So that guys like Mike that were in this position could get their shot at a big contract. Brock Osweiler is a good example of a guy that did that last year.

"So we'd like to bring Mike back. Jameis and Mike are very close but Mike's in control of that. And in the meantime, we've been working with Ryan Griffin for the last almost two full seasons. When we brought Ryan Griffin in here from the Saints, we knew that there would come a time that we might be losing Mike and our quarterback coach Mike Bajakian has been spending a lot of with Ryan Griffin. And if [Glennon] isn't back with us, the fact that Griff has been here for two seasons and, you know, we feel that he has a lot of upside as well.

"I'm a big Mike Glennon fan, but this is also just the way this thing works."
Count Joe in as one of the guys thinking there's no way Glennon scores anything close to Osweiler money in free agency. Glennon isn't that good, his leadership skills aren't well known, and Osweiler probably soured the market.
Sorry, Mike Glennon Mob, but Glennon is not guiding any team to the Super Bowl as a starter, maybe not even the 2000 Ravens. Take it to the bank that if Mike Smith gets the Jaguars job, he won't be running to ownership to demand they trade embattled Blake Bortles so they can ink Glennon.
All that written, Glennon is one of the best No. 2 QBs in the NFL. He also knows Koetter's system and, per Koetter, is very close with America's Quarterback, Jameis Winston.
As a 9-7 football team on the rise, the Bucs should have a quality backup, since they one (more) win really matters. (See 2016).
So Joe would applaud the Bucs locking Glennon up now up as a long-term backup. As Joe has written previously, the way Jameis sacrifices his body, sometimes needlessly, he's likely to miss games sooner rather than later.
(Glennon talked about bailing on the Bucs to JoeBucsFan.com columnist Ira Kaufman earlier this week. That's all right here, and it's an excellent read.)