Hall Presentation Order Revealed; No On Poe; Jameis Vs. The Class & The Latest Bucs Victory
January 16th, 2017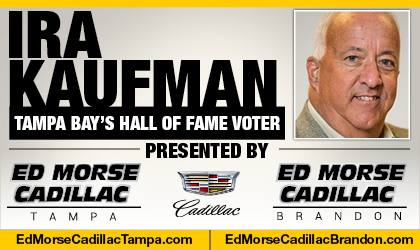 BY IRA KAUFMAN
For your Monday perusal, here's an assortment of goodies that includes your weekly update on John Lynch.
If this column had to be listed on Jeopardy, it would go under the "Potpourri" category, a grab bag of offseason items that ultimately reflect back on the Buccaneers.
Here we go:
Late Lynch
I received an e-mail from the Pro Football Hall of Fame last week listing the order of presentations to be made on the day before the Super Bowl in Houston.
There are 18 names on the ballot — 15 modern-day candidates, one senior nominee (safety Kenny Easley) and two contributors (Jerry Jones and Paul Tagliabue).
Of the 15 modern-day nominees, a maximum of five can enter the Hall in the Class of 2017.
The order of presentation is chosen at random and Lynch will be the 14th candidate discussed. Two other defensive backs, Brian Dawkins and Ty Law, will be talked about in the moments before Lynch comes up before a panel of 48 selectors — which now includes Hall of Fame players Dan Fouts and James Lofton.
The final modern-day candidate to be discussed Feb. 4 is Terrell Owens, who didn't receive enough support in 2016, his first year of eligibility.
In my breakfast with Tony Dungy last week, the Hall of Fame coach said Lynch had the most responsibility of any player in that iconic Tampa 2 defense, including Warren Sapp and Derrick Brooks.
Lynch's role shifted with the alignment chosen for a particular play.
At times, Lynch had to offer strong run support against a Barry Sanders or a Jerome Bettis. He also had to shadow a tight end like Tony Gonzalez or split deep downfield coverage with another safety. Only a player with keen football intelligence and athleticism can fill those versatile roles with the distinction Lynch showed for both Tampa Bay and Denver.
This is Lynch's fourth year as a finalist and it's his time. Of the 17 names discussed for the Class of 2014, 15 already have Hall of Fame busts.
The only two holdouts? John Lynch and Morten Andersen.
No On Poe
Some Buc fans are excited about the prospect of landing Dontari Poe in the upcoming free-agent market.
I'm not.
Even if the Chiefs don't re-sign their 26-year-old nose tackle, I'm not convinced Poe would be a significant upgrade for Tampa Bay playing next to Gerald McCoy. I watched Poe closely during Sunday's 18-16 playoff loss to Pittsburgh and he failed to hold his ground while Le'Veon Bell ran wild.
Poe was pushed around all night, finishing with four assists and zero solo tackles. He is no factor on the pass rush and Kansas City's rushing defense wasn't any better than Tampa Bay's during the regular season.
That's supposed to be Poe's specialty.
Jameis Needs Work
It's no secret that the Bucs need to add a speedy target for a more dynamic passing game, but let's also acknowledge that Jameis Winston also has to improve his mechanics in the offseason.
Look at the four quarterbacks remaining — Brady, Rodgers, Ryan and Roethlisberger. With all due respect to Drew Brees and Russell Wilson, those are arguably the top four men under center in the entire league.
Winston certainly isn't in that class. Not yet.
Winston just turned 23, so he has plenty of time to grow into an elite quarterback who can transform the Bucs into a perennial NFL power. His work ethic suggests Winston wants to be great, and that's half the battle.
Teams Lose, Bucs Gain
Finally, a word on Bucs defensive coordinator Mike Smith, who is returning to Dirk Koetter's staff after failing to land a head coaching job.
What are these teams thinking?
The Jaguars went with Doug Marrone, which tells you all you need to know about that forlorn franchise. Marrone was 15-17 in two seasons with the Bills, but he gets another shot while Smith is bypassed … despite a far better resume.
Have these owners forgotten that Smith went 56-24 in his first five years with the Falcons before a series of bad drafts sunk him?
The Rams took Sean McVay and the Chargers are putting their faith in Anthony Lynn.
Mike Smith can't get a second chance?
That's good news for the NFL's stingiest third-down defense, but disappointing news for a good man who now has to wonder whether his head coaching days have passed.
Welcome back, Smitty.
Tampa Bay's only Hall of Fame voter pens columns for JoeBucsFan.com Mondays, Wednesdays and Fridays, and he churns out his popular podcasts here Tuesdays and Thursdays. You can also listen to the podcasts on iTunes or Podbean.