Can The Bucs Duplicate The Chiefs' Score?
January 11th, 2017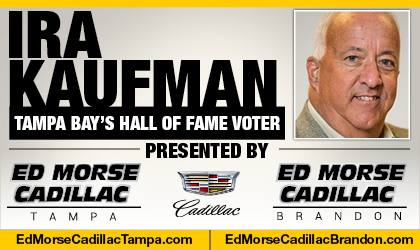 BY IRA KAUFMAN
Picture this scenario, which may not be far-fetched.
At approximately 4 p.m. on Sunday, after watching the Chiefs take on the Steelers at Arrowhead, Dirk Koetter sends a text to Jason Licht — succinct and to the point.
"We need one of those."
The "one of those" Koetter would be referring to is Chiefs rookie wide receiver Tyreek Hill, a threat to go the distance every time he grasps a football. The fifth-round draft pick scored 12 touchdowns in a variety of ways and averaged 13.3 yards per touch.
Think about that for a moment, Buc fans.
Think about how a gifted offensive mind like Koetter could find ways to get the ball to a player like Hill in space. Think about the impact a burner like Hill would have in stretching defenses who don't believe Jameis Winston's targets can beat them deep.
Why should they?
As good a season as Mike Evans enjoyed, and I voted him 1st-team All-Pro, he caught only one pass of more than 40 yards all year. That came in Week 1, when Evans made a 45-yard touchdown reception at Atlanta.
That was Tampa Bay's longest completion of the season and the Bucs finished as the only NFL club without a reception of more than 45 yards.
It gets worse.
Hidden Yardage
The Falcons led the league with 17 completions of at least 40 yards. The Bucs had only four — tied with the Bears, Texans and Jaguars for fewest in the NFL.
You never want to be in the same sentence as those three plodding offenses.
Hill scored six times as a receiver, adding three rushing touchdowns. He brought two punt returns back all the way and scored once on a kickoff return.
The Bucs were awful on kickoff returns, ranking last with an average of 14.6 yards. New Orleans was next to last with an average of 16.5.
Adam Humphries was dependable on punt returns, but he's not a big-play threat. Tampa Bay brought only two punts back for 20 yards or more, compared to eight for the Chiefs and Bills.
That's a lot of hidden yardage in favor of Buc opponents.
Too much.
Now it's up to Licht's scouting crew to land a speedster who can, in Koetter's words, turn a 10-yard pass into a 30-yard gain.
DeSean Jackson?
Most of the remaining playoff teams boast a home-run hitter who can pick up large chunks of yardage. With Evans, Humphries and Cameron Brate returning, adding a burner would give Winston an impressive array of weapons while making defenses think twice about stacking the box.
Now comes the hard part. How do you find the next Tyreek Hill?
The only reason Hill lasted until the fifth round was his arrest two years ago on domestic violence charges. He pleaded guilty to choking his pregnant girlfriend and Hill finally found a taker after posting a 4.25 time at his Pro Day.
If the Bucs don't like the group of wide receivers in the 2017 draft, they could strike early and sign DeSean Jackson as a free agent. Jackson's career average of 17.7 yards per catch leads all active players and he has at least one 60-yard reception in each of his nine pro seasons.
One way or another, adding speed to this offense is Job 1 for Koetter.
I've watched Hill all season and his game-breaking speed has given Kansas City's attack needed teeth. If there's another Tyreek Hill out there, the Buc braintrust needs to find him.