"Unreasonable Third Downs"
December 24th, 2016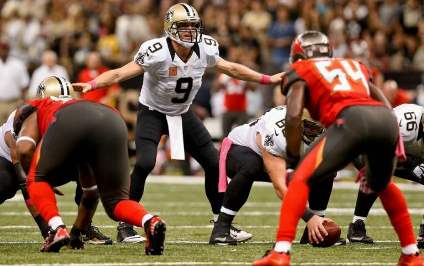 There's a bit of a false perception flowing through the Saints locker room, based on what Joe's been hearing all week via the team's official website.
The Saints converted just four of 13 third-down attempts against the Bucs defense two weeks ago, and a lot of Saints think it was because the team was too often in a 3rd-and-miserable situation, (aka 3rd-and-Cherilus, if you're a Bucs fan.)
"That kind of in the first Tampa game was a problem for us, being in unreasonable third downs," said superstar center Max Unger, who didn't play against the Bucs but will today. "Just being able to help yourself and not have these ridiculous third downs as I think is really what helped us at [last Sunday at Arizona]."
These claims rang didn't jibe with Joe's recollection of the Bucs choking out the Saints, so Joe researched the Saints' third-down situations. They were as folllows:
3rd-and-7
3rd-and-5
3rd-and-8
3rd-and-10
3rd-and-3
3rd-and-1
3rd-and-goal
3rd-and-13
3rd-and-3
3rd-and-2
3rd-and-1
3rd-and-1
3rd-and-2
3rd-and-5
That's not so unreasonable at all for the Saints offense. Drew Brees was only in 3rd-and-long four times.
The fact is the Bucs' coverage was special in that game, and the four-man pass rush did enough. Brent Grimes also picked Brees on 3rd-and-1, which was a gargantuan play.
One of Joe's biggest concerns today is stuffing the Saints' running game, which was stout in Arizona and has been solid most of the year. The Bucs are without manbeast run stuffer Will Gholston and Unger returns for the Saints. Bad combination right there.