Pillow Time For The D-Line
December 22nd, 2016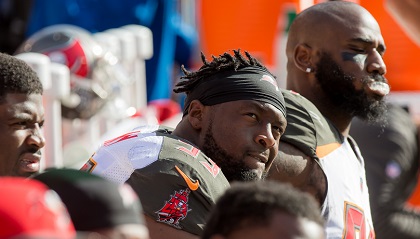 Great stuff from Trent Dilfer on the key to a Saturday victory for Tampa Bay in New Orleans.
Once upon a time, the Bucs dumped Dilfer as their starting quarterback and he landed with the Ravens.
There, Dilfer learned different elements of a championship culture and defense. And within a year he was wearing a Super Bowl ring. Part of what Dilfer observed was a star-studded coaching staff with a player-first mentality.
Dilfer told WDAE-AM 620 this week that Dirk Koetter needs to go super easy on his defense all week so they can set the tone against Drew Brees
"I saw Marvin Lewis, Rex Ryan, those [Ravens] defensive coaches, Jack Del Rio, Brian Billick the head coach, they were very, very, very tuned in to the level of energy of our team late in the season," Dilfer said. "And we played our best defense, we were able to go on that historic run, because we were really fresh. Because you need fresh pass rushers. You need fresh defenders mainly this time in the season.

"I say all this because the Saints are going to have great gameplan. There will be tweaks. They're going to be going, 'Oh my gosh, we gave away 200 yards of offense a couple of weeks ago against Tampa.' But what they can't handle is if Tampa can get to Drew right away. If the defensive front gets to Drew, disrupts him, make him rush his throws, rush his decisions, now you got a chance to go on the road and win. And that's all about how fresh your front guys are."
When Dilfer ran off the names of the Ravens' stud defensive staff, he forgot to mention the guy coaching the defensive line with Rex Ryan. That guy was Bucs defensive coordinator Mike Smith.
Koetter has said many times that the big, eye-opening thing he learned coaching under Del Rio in Jacksonville was the importance of player health and freshness. This plays directly to what Dilfer said. And defensive tackle Akeem Spence talked to Joe this week about how easy Koetter was going on the defense.
Hopefully, the Bucs D-line will have the juice at the opening whistle. If not, Smith really needs to pull the trigger early on dialing up pressure.