Best QBs To Build Around
December 22nd, 2016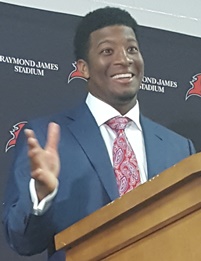 Interesting story here typed by longtime NFL executive and father of the Cowboys dynasty of the 1970s, Gil Brandt, now a part-time NFL employee.
Brandt identified the best young quarterbacks in the NFL to build an offense around. He doesn't have America's Quarterback, Pro Bowler Jameis Winston, at the top of the list, but near the top at No. 4.
Evaluation: Not as athletic as Mariota or Prescott, but very smart and has good work habits. Had a 4.0 GPA out of high school, choosing Florida State over Stanford. Won a national title and Heisman Trophy in college. Great leadership skills. Good, plus arm strength. Has mental toughness. Made Pro Bowl as a rookie. Has led the Bucs to 14 wins over first two seasons.
Personally, Joe would have Jameis no less than No. 2. Why? Aside from Mike Evans, Jameis has nothing around him. Give Jameis another decent receiver as his No. 2 option and a decent, consistent running back, and man, the sky is the limit with the Bucs offense!
That's why Joe is almost as excited about the offseason as Joe is about a potential playoff berth. Just what kind of late Christmas presents can Bucs AC/DC-loving general manager Jason Licht get Jameis with the sackful of Team Glazer loot he will have available.