About Trading Doug Martin
December 28th, 2016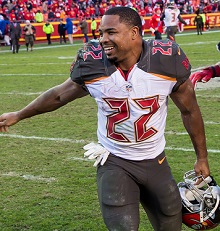 The question of the week fired at Joe via various channels revolves around the next steps in the Doug Martin drama.
Joe has answers.
First, the trade question is most popular, likely because it's obvious that Dirk Koetter has lost confidence in Martin.
The situation meets the trade trifecta equation perfectly: healthy player in prime + big salary + plus thumbs-down from the head coach = trade. Simple as that.
Could the Bucs swing a pre-draft trade for Martin? Maybe. But Joe doesn't see a team coughing up more than a fifth-round pick. And that would be the maximum.
Martin's guaranteed salary next season kills the shot for more, plus he'd be coming off a bad, injury-shortened season. Question-mark, expensive running backs are never in high demand.
Yes, the Bucs absolutely could keep Martin for 2017. They're already paying him. They might as well reap some benefit.
If Koetter is down on Martin's talent and there's really no hidden issue/attitude problem behind the scenes, then Martin could serve as one hell of a running back competing for a job next season.
It makes perfect sense. He knows the offense. He can pass block. What a luxury on the roster for a team with a ton of salary cap room. A trade could always be revisited in the summer.
Joe has observed and covered Martin for five seasons. He certainly doesn't seem anything like the guy who's going to become a team cancer or pout like a diva because he got demoted and must battle for a job. That doesn't appear to be in his DNA.
Plus, Martin bought a house in Tampa and loves to talk about how he enjoys the area. He doesn't strike Joe as a guy with one foot out of town and eager for a new team.
Perhaps the worst thing Joe could say about Martin is he was hanging out socially with Austin Seferian-Jenkins less than two weeks before ASJ was arrested and kicked off the team in September. Some might consider that an unfair shot by Joe, but Joe thinks a veteran choosing to hang out with ASJ is a red flag by association.