Staying Grounded
December 28th, 2016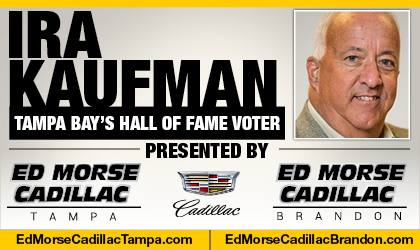 BY IRA KAUFMAN
Before closing the book on the 2016 Buccaneers, let's read between the lines.
Not good enough. Not tough enough. Not talented enough.
The trenches weren't kind to the Bucs this season and GM Jason Licht won't forget that failing when free agency and the draft come along.
While Tampa Bay fans pine for a speedy wide receiver and an impact safety, Licht will also be on the lookout for better play up front on both sides of the ball.
A team that was flexed repeatedly down the stretch simply didn't flex its muscles often enough to end a postseason drought that now extends to nine years.
A dismal ground game and poor run defense stand in stark contrast to last season's performance on both counts.
A year ago, the Bucs averaged 4.8 yards per carry and 135.1 rushing yards. That was good enough for a No. 5 ranking and it helped Tampa Bay establish a franchise record for total offense under coordinator Dirk Koetter.
Those numbers pale in comparison to 2016, with the Bucs averaging only 3.5 yards and 100.3 yards on the ground. That lack of production triggered Doug Martin's demotion in New Orleans.
But an equally discouraging dropoff occurred on the defensive side when it comes to Job 1 — stopping the run game and turning teams one-dimensional.
In 2015, Buc opponents averaged only 3.4 yards per carry. Only one team was stingier, the AFC-champion Broncos. Teams ran for 100.4 yards per game, giving the Bucs an average 35-yard rushing edge on opponents last season.
That stout run defense has vanished before our eyes.
Full Flip
Heading into Sunday's finale against Carolina, Buc opponents are averaging 4.4 yards and 116.5 yards per game, despite fewer carries.
Now the Bucs are minus-16 yards on the ground instead of plus-35.
Big difference.
Only five teams ran for at least 119 yards against Tampa Bay a year ago. That's already happened 10 times this season.
What's gone wrong?
Tackling has been lousy for sure, but there's more to this tale of woe. Derrick Brooks and Kwon Alexander are on record suggesting that hustle and effort are issues to be addressed in the offseason.
When a Hall of Famer and a future Pro Bowler wonder out loud why more players aren't swarming to the football, that speaks volumes.
You can be sure those words reach the ears of the general manager, the head coach and the gentlemen who sign the checks.
Unwavering Commitment
With Koetter still calling the plays, the Bucs have remained extraordinarily committed to a running game that has left Jameis Winston facing too many 3rd-and-7s.
The Bucs averaged 28.4 rushing attempts last year and that number is 28.5 this season. Koetter's faith hasn't been rewarded, and a relatively healthy offensive line hasn't blocked well enough.
Not even close.
These problems up front on both sides have had a dramatic effect on overall efficiency.
Despite going 6-10 in Lovie Smith's off-key swan song, the Bucs averaged 5.9 yards per snap, compared to 5.2 yards for opponents.
Those numbers have been reversed in 2016, with Tampa Bay averaging 5.2 yards per snap, compared to 5.9 for opponents.
Overall, this team is going in the right direction, but it's obvious there is much work to be done before the Bucs gather together again in the spring.
In a league built for the forward pass, Tampa Bay has to do a much better job of staying grounded.
Ira Kaufman, Tampa Bay's only Pro Football Hall of Fame voter, pens columns for JoeBucsFan.com every Monday, Wednesday and Friday, and his award-winning podcasts fire on Tuesdays and Thursdays. Ira also eats all the french fries and pizza at JoeBucsFan.com world headquarters.