Rookie Walls?
December 24th, 2016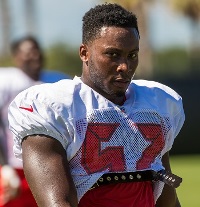 Tough sledding today for defensive end Noah Spence and cornerback Vernon Hargreaves.
It was the same way last Sunday in Dallas.
Hey, they're rookies. Joe's not coming down on these youngsters.
But Spence hasn't had a sack in his last four games. And 21-year-old Hargreaves got an old fashioned roasting in New Orleans. The Saints' trio of receivers is having a historic season, but Hargreaves was burned too often. He also got beaten up in the game, which often happens to rookies in December.
The regular-season finale will be big for those two. The extra day of rest and film study should help.
Neither Spence nor Hargreaves have missed a game all season. That's admirable, but the "rookie wall" is hard to avoid for anyone, especially if you grind it out every week.
Spence has  5 1/2 sacks, and Joe would love to see him have a big game and match Adrian Clayborn's 7 1/2 sacks as a Bucs rookie in 2011.
Quietly, Roberto Aguayo hasn't made a Bucs fan bang his head into a wall in a while. Joe will take it.