The Bucs' Playoff Picture Summary
December 24th, 2016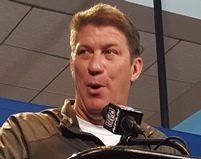 UPDATED 11:13 p.m.: Bucs are eliminated.
No need to take notes.
Joe has done it for you.
Here's what has to happen for the Bucs (8-7) to make the playoffs.
The Lions (9-5) must lose on the road on Monday Night Football to the Cowboys, who have clinched the No. 1 seed in the NFC.
The Packers (9-6) must lose to the Lions on New Year's Day in Detroit.
The Giants (10-5) must win at the Redskins (8-6-1) on New Year's Day.
Tampa Bay must beat the Panthers at the Stadium on Dale Mabry Highway on New Year's Day.
Also, the Bucs need a lot of help from seemingly random teams to allow them to win a "strength of victory" tiebreaker with the Packers for the Wild Card.
If all of that happens, the Bucs and Giants will be the NFC Wild Card teams, with Tampa Bay earning the No. 6 seed and likely heading to Seattle for the playoffs, assuming the Falcons (10-5) bury the Saints (7-8) in Atlanta next weekend.
In summary, the Bucs need three games to fall their way and their own victory, and some miracles.
Yes, hope for a postseason appearance is alive. Hope for a postseason win is a very different story.