"Right Up Until That Time You Get Smacked In The Mouth"
December 9th, 2016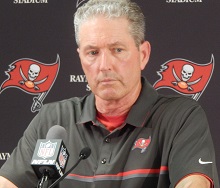 It seems Dirk Koetter might have some issues with the "M" word.
Gotta love Coach Koetter, always keeping it real — even in a fluffy pregame studio chat at One Buc Palace with the official team website.
Calm and venerable Scott Smith of Buccaneers.com did is weekly sitdown with Koetter and dared to ask the head coach whether momentum is real and can help.
"It can help right up until that time you get smacked in the mouth," Koetter said. "And then, you know, New Orleans doesn't care about our momentum. This is a big divisional game for both teams. So it's all nice. This is all nice talk. We do feel good about where we're at. We got a long way to go. And if we don't show up with our best stuff on Sunday, New Orleans will smack us right back into reality as fast as we can see it happen. We gotta be ready to go. This is going to be a heck of a game, and really looking forward to getting back out there in front of our fans."
Lotta juice to Koetter this week (even more on that later). Don't you dare talk to Koetter about streaks or momentum of playoffs.
Last year, after 12 games, the 6-6 Bucs came home to play the Saints. They came out lifeless and flat. The players admitted it. Four days later, they were "very flat" in St. Louis. before the nation on Thursday Night Football.
Joe will almost guarantee the Bucs give a big-time physical and energetic effort Sunday.
No way this team responds to Koetter like it did for Lovie Smith last December. They will "carry a big mother f#$%'n stick."