Rankins At Center Of Rising Saints "D"
December 10th, 2016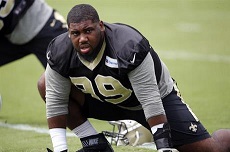 Yes, the Saints defense is very bad, but don't look now, New Orleans hasn't allowed 30 points in seven consecutive games.
That's big-time progress for them.
Dirk Koetter talked about the massive offseason overhaul of the Saints defense this morning on SiriusXM NFL Radio. Koetter said he can see the growth as the unit has been coming together.
One massive spark for the Saints came last month when rookie stud defensive tackle Sheldon Rankins returned from a broken leg suffered in the preseason.
Per Nola.com, Rankins has 13 tackles in five games, two for loss, one forced fumble and four quarterback hits — plus three sacks. He's also impressed with his versatility and consistency.
Statistics don't always show the impact a defensive tackle has on the game, but Rankins has already found a way to consistently produce. …Since returning from a broken fibula, Rankins hasn't started in any of his five games, but he's played at least 63 percent of defensive snaps four times. His ability to fill in for Tyeler Davison at nose tackle, play three-technique in place of Nick Fairley or kick out to defensive end is a big reason he's had a significant role the entire time he's been healthy.
No, there's no reason to fear the Saints defense, but it is improving, and a guy like Rankins must be accounted for. Joe has a bad vision of Rankins issuing a few wakeup calls tomorrow.