Pro Bowl No. 5 For Gerald McCoy
December 20th, 2016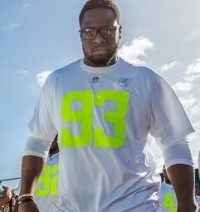 Gerald McCoy was missing from Sunday' night's box score, but he's still a national football treasure.
McCoy was named to the Pro Bowl for the fifth consecutive year tonight.
Without official confirmation, Joe will say comfortably that McCoy is the first Tampa Bay Pro Bowler to play for three different head coaches and four defensive coordinators.
Geno Atkins of the Bengals leads all defensive tackles with 7 1/2 sacks. McCoy, Aaron Donald and Leonard Williams are tied at seven sacks, and they each have two forced fumbles. Atkins has none.
The Pro Bowl honor is determined by fan voting (McCoy never gets a lot of those), coaches voting and player ballots.
The McCoy haters and detractors won't like this, but No. 93 is deserving.
Congratulations, Gerald.